Top Five Ways I Drive My Editor to Drink
Describe the crime-scene stuff in my books with waaay too much detail, because I am a huge forensics nerd. What I find "fascinating," normal people find "really gross."
Write an entire chapter merely to set up a joke (it was a funny joke, though. Maybe "forward momentum" and "plot" should to take a back seat and let humor drive for a while).
Completely and utterly fail in my attempt to write short(er). Even after cutting two complete chapters from In Safe Hands (Book 4 of my Search and Rescue series), I added so much elsewhere that the manuscript was even longer than it'd been before edits. I just can't stop adding words. It's a sickness.
Lament my inability to correctly use the subjunctive mood for an entire (long) email, because, in addition to being a huge forensics nerd, I am also a huge grammar nerd.
Dump my insecurities on her head. "Do you like my book? Did the copyeditor like my book? Did your mom like my book? Will readers like my book? Do you think it's good? Really? Honestly? Tell me again what you like about it." Normally, I'm a pretty relaxed, easygoing person, but putting my books out into the world seems to push my "needy and insecure" button. Being published has been an amazing experience—and a very, very scary one. My editor has been forced to fill the role of hand-holder and therapist along with her many other duties. I'm sure I'll calm down as the series progresses and I get a few release days under my belt. Maybe.
Until then, all I can do is keep my wonderful, long-suffering editor supplied with liquor.
Giveaway
My lovely friends at Sourcebooks are giving away a bottle of (wait, scratch that) a copy of HOLD YOUR BREATH to one lucky commenter. Just tell us what your favorite drink would be if you were an editor of mine?
When she's not writing, Katie Ruggle rides horses, shoots guns, and travels to warm places where she can SCUBA dive. Graduating from the Police Academy, Katie received her ice-rescue certification and can attest that the reservoirs in the Colorado mountains really are that cold. While she still misses her off-grid, solar- and wind-powered house in the Rocky Mountains, she now lives in Rochester, Minnesota near her family. Katie Ruggle: http://katieruggle.com/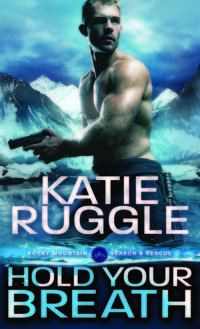 In the remote Rocky Mountains, lives depend on the Search & Rescue brotherhood. But in a place this far off the map, trust is hard to come by and secrets can be murder…
As the captain of Field County's ice rescue dive team, Callum Cook is driven to perfection. But when he meets new diver Louise "Lou" Sparks, all that hard-won order is obliterated in an instant. Lou is a hurricane. A walking disaster. And with her, he's never felt more alive…even if keeping her safe may just kill him.
Lou's new to the Rockies, intent on escaping her controlling ex, and she's determined to make it on her own terms…no matter how tempting Callum may be. But when a routine training exercise unearths a body, Lou and Callum find themselves thrust into a deadly game of cat and mouse with a killer who will stop at nothing to silence Lou—and prove that not even her new Search and Rescue family can keep her safe forever.