Jimmy swings his head to look at me, a dimple under his scruffy beard appearing a little bit as our eyes meet.
Bearded jaw. Roguish smile. Golden tan. White teeth. Eyes so bright and blue it's sort of a shock when they land on me.
He might be hot, but he is not my type at all. I'm me, and he's … so raw; he's the most primitive man I've ever seen.
I shift in my stool and turn back to take a quick sip of my drink, bracing myself for another look.
I steal it. My stomach clutches because, oh god, he's blatantly staring at me.
He raises an eyebrow, and I stiffen in my seat and turn back to my drink, listening to a soft male laugh behind me.
"Jimmy!" I hear someone call.
I turn, and Jimmy is now looking at another guy who's kicking his chair back.
Jimmy raises one eyebrow. For some reason, the deep bass of his voice causes the hairs on my arms to rise at attention. "I told you I'd find you." Jimmy speaks threateningly to the other man.
"Here I am," the other says.
They start to face off, winding around the tables to the vacant space between.
Jimmy flexes his arms at his sides, his biceps bunching in a way I fear might make his T-shirt pop.
Why am I here? In the middle of a freaking bar fight? I'm strangely rooted to my stool. Before I can take another breath, Jimmy lunges at the guy.
His opponent falls onto the table behind him, and the table legs break with a loud crack, sending him flat on his back with Jimmy Rowan on top.
"Ahh, Jimmy!" the bartender groans as he swings up over the counter and slides down to the other side, charging over. "Dude, take this outside. OUTSIDE! TAKE IT OUTSIDE, JAMES!"
Wait. His name is James?
Kind of like … Bond. James Bond?
The bartender and another man pull James back, and James shakes his head with a scowl and glares down at the man on the ground. "Fine. I'm fine."
They release him, and James drags a hand restlessly along the back of his neck before he raises his head and looks at me again. My heart skips a crazy little beat as he stares at me; then he seems to recover his anger and dives for the guy one more time.
The crowd watches as both guys punch each other, rolling on the ground, and as the fight continues, I sit here, paralyzed. I'm shocked but can't look away. It's like watching a train wreck.
"JIMMY!" half of the bar cries, while the other half is just watching, like me. Though I have to say a lot of the people here look amused. I'm not.
Again, two men pull James back, and he lets out an angry curse as he's held back, his eyes whipping to mine again.
He stares at me with flaring nostrils, no apology or remorse in his stare. He's not looking away, his stare sexual and blatant, as if he wants me to know it.
I lick my lips, my hands trembling as I reach into my purse and pull out some money. I leave it on the bar. He's breathing hard, his chest heaving and stretching his T-shirt as I quickly sling my purse around my shoulder, grab my jacket, and start walking toward the door.
His eyes crawl over me with every step I take, and I vaguely remember I'm wearing a business suit. My jacket is in my fist, the shirt I'm wearing too white. My skirt feels shorter than I'm sure it is, a little tighter than I remember.
I can't wait to get out of here.
What is this man doing to me?
"You cool, man?" the bartender keeps asking this James Rowan guy. The YouTube star. The daredevil.
(C) Katy Evans, Montlake Romance, 2019
Million Dollar #1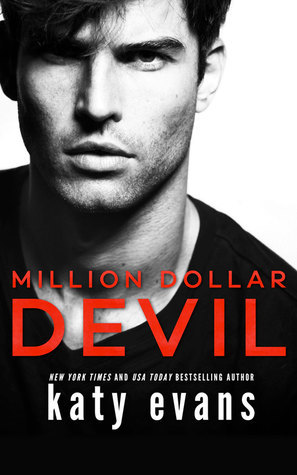 Big-city sophistication meets carnal hunger in this devilish contemporary romance from New York Times and USA Today bestselling author Katy Evans.
Heir apparent to her father's company, Lizzy Banks needs a man. The perfect man. But when the rich "fundbabies" she usually rubs shoulders with prove impossible to hire, she takes a chance on a raw beast of a man salvaged from the wreckage of a bar brawl.
James Rowan earns a modest income as a YouTube daredevil, but he can't refuse Lizzy's million dollar deal. As she polishes his rough edges, creating a sophisticated gentleman fit for the highest circles of society, not only does she bring out the perfect man—it's like she's making the man of her dreams. How can she resist?
Though Lizzy loves seeing James in his clothes—and out of them—he isn't the kind of man you bring home to Daddy. Her father's disapproval and the pressure of the campaign have her eyeing the straight and narrow, but Lizzy's finding it awfully hard to resist the devil on her shoulder…
Romance Contemporary [Montlake Romance, On Sale: May 28, 2019, Paperback / e-Book, ISBN: 9781542043809 / ]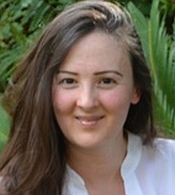 Katy Evans grew up with books and book-boyfriends until she found a real sexy boyfriend to love, married him, and now they are hard at work on their own happily ever after. Katy loves her family and friends, and she also loves reading, walking, baking, and being consumed by her characters until she reaches "The End." Which, is hopefully, only the beginning…