Fall in Texas is the perfect time of year to enjoy cooler weather. At Twin Oaks Ranch, that means more than fun campfires, cookouts, trail rides, and family get-togethers. It's time to take stock of the ranch after summer growth in the pastures, as well as damage to trees and bushes by high winds and storms. This year there was quite a bit of clean-up on my agenda after a wild–weather-wise–spring and summer.
What to do? Fortunately, my cowboy neighbors are always ready to lend a helping hand, so I called on them. As we worked on the ranch, I took photographs to show readers how art imitates life in my cowboy firefighter novels.
Photo 1: Zander wears a harness that is a potential life-saver. If a line breaks, the harness will keep him from falling to the ground. He climbed up a shade elm that had been damaged by straight-line winds. He cut out the limbs, but he saved the trunk. We expect to see new tree growth appear in the spring. That will be a happy day for us all.
Photo 2: Rod can wield a chainsaw with exact precision. In this case, thick blackberry vines had grown up, along with understory trees, around my beautiful weeping willow. They were also obstructing the view of my pond with its green lily-pads and making it difficult to reach the water. Chainsaw in hand, Rod made short work of the overgrowth. Now we can all enjoy the natural serenity of the pond.
Photo 3: Logan handles an old-timey ax as well as he does modern gasoline-driven equipment. In fact, he is an expert with an ax since he built a log cabin the traditional way by cutting down trees and notching logs with nothing more than his trusty ax…and plenty of muscle. He not only chopped down my damaged or dead trees, but he cut them up as well to be hauled away. More sunlight helps the remaining trees grow strong and provides warmth and beauty under the pines.
Life on a ranch means your family, friends, and neighbors are always ready to help out, just as you're there to help them. After the satisfaction of hard work and a job well done, we like to play. . . whether somebody brings over a guitar or flute to share music, barbeque and all the fixings to share a meal, or simply to share a visit, fall in Texas is a wonderful time of year to be outdoors.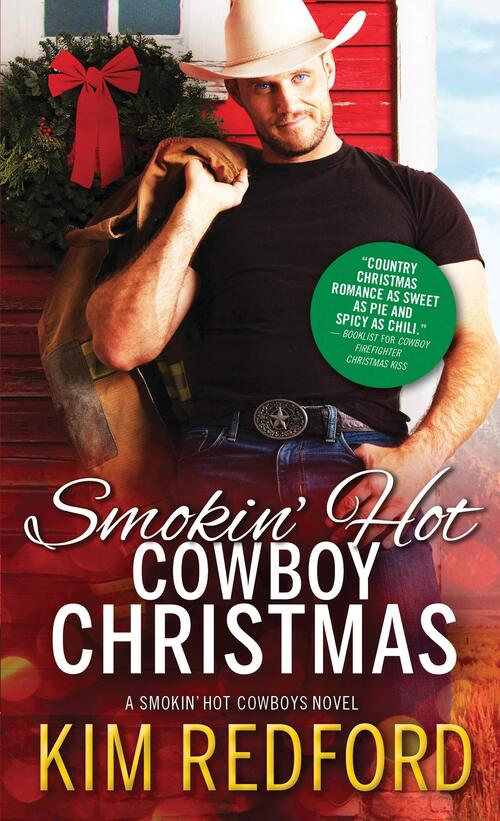 Have yourself a Smokin' Hot Cowboy Christmas
It's been one fiasco after another for newcomer Belle Tarleton since she began trying to turn her ranch into an arts center. Local workers seem determined to ruin her Christmas party plans, and she hopes bringing in down-on-his-luck Rowdy Holloway to help with renovations will get things back on track.
Rowdy is the unluckiest cowboy in the whole of Wildcat Bluff County, Texas, and things are not improving this holiday season. Sure, he's the object of many local women's drool-worthy fantasies, but the town has decided he's the man who should stop Belle's renovation plans.
It started as a simple mission, but now Rowdy's so twisted up he doesn't know whose side he's on. With only days until Christmas, Rowdy and Belle need to tap into their fiery personalities and off-the-charts chemistry if they're ever going to find a way to thaw the ice on this reluctant town's heart.
Romance Western | Romance Holiday [Sourcebooks Casablanca, On Sale: September 29, 2020, Mass Market Paperback / e-Book, ISBN: 9781492695059 / eISBN: 9781492695066]
Kim Redford is the bestselling author of Western romance novels. She grew up in Texas with cowboys, cowgirls, horses, cattle, and rodeos for inspiration. She divides her time between homes in Texas and Oklahoma, where she's a rescue cat wrangler and horseback rider—when she takes a break from her keyboard.