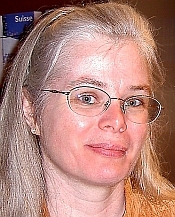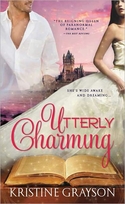 It looks like I'm just following the crowd with my fairy tale books. As I write this, two network TV shows about fairy tales are about to premiere, Grimm (set in my home state of Oregon) and Once Upon A Time. There are two Snow White movies schedule for next year, and a small mountain of fairy tale books will surely follow.
I want to say here and now, I got the ideas first. One of the things that happens in my career is that I'm usually about a decade ahead of the trend, and honestly, this is no different. Most of my novels come from short stories, and the award-winning short story that inspired UTTERLY CHARMING, got published in 1998.  I wrote the story, "The Strangeness of the Day," under my real name, Kristine Kathryn Rusch, and the story is free on wwww.kristinekathrynrusch.com from Monday October 17 to Sunday October 23. (If you only care about Kristine Grayson, you can find all the Grayson news at www.kristinegrayson.com)
"The Strangeness of the Day" came about because an editor friend asked me to contribute a story to an anthology called BATTLE MAGIC. So of course, I thought of Prince Charming defending Sleeping Beauty from an evil witch in modern-day Portland, Oregon. I mean, who wouldn't?
Honestly, I don't know where these ideas come from. I just know that they make me a little crazy. Or maybe I was a bit crazy before I got the ideas. All I know is that "The Strangeness of the Day" has lead to several books, lots of twisted fairy tales, and even more to come.
Those Hollywood people? They're following the trend. Me, I'm just blazing the way.
By the way, if I wanted to do a one-line pitch to the Hollywood folk on UTTERLY CHARMING, I'd say the book is about this: Prince Charming falls in love with Sleeping Beauty's lawyer.
Because lawyers make the best romantic heroines. Right?
Tell us which fairy tale is your favorite or if you're planning on watching the new shows and you could win UTTERLY CHARMING
To comment on Kristine Grayson's blog please click here.