It was then that Kerry walked by the back kitchen opening, and she paused at the doorway. "Errol! What are you doing here?" she said, stepping into the main lounge.
The boy brightened at the sight of Kerry, his entire face opening up and his demeanor changing as he smiled at her. But then, as if remembering his mission, he quickly sobered. "Hi, Miss Kerry. I just wanted to come by to say how sorry I am about Ms. Joy."
Kerry stepped forward and took the boy into her arms in a hug. "Oh, Errol. Thank you so much. That is so kind of you."
Errol pulled back and unclenched his fists from the bag he was holding. He looked up at Kerry with a sad longing in his eyes and Jesse could see he was debating a question. "Will the shop be open again for us kids to come in for a lesson?"
Kerry looked around at Jesse and his brothers, then back at Errol. "Errol, I'm not sure. The family has to do some figuring out about that."
Errol let out a breath and looked at Jesse. The boy nodded soberly as if he fully understood, despite his young age. Once again, he clenched the brown paper bag tightly.
As if she knew he wanted something more, Kerry questioned him. "What you got there, Errol? Is it anything I can help you with?"
Once again, Errol looked at all the brothers, and it was then that Jesse could see the embarrassment as it bloomed across his features. He looked at Kerry and put his shoulders back before reaching into his bag and pulling out a small set of circular knitting needles and what appeared to be the beginning of a hat cast on, though Jesse could see he had gotten himself into a tangled mass of dropped stitches. "I think I've made some mistakes here and could use some help, so I was hoping there would be another class," Errol said.
Kerry's smile was warm and nonjudgmental as she gently rubbed the top of his head. "Yes, it looks like you do have a little bit of a mess here."
She looked across to each of them, a hint of warning in her eyes before they softened. Lucas, then Noah, then Damian, and finally stopping on Jesse. "But don't worry, it's just a few drop stitches though. In knitting there's never a problem that can't be fixed. It's only yarn. Now, why not come back to the kitchen with me and let's see if we can't work this out."
Jesse watched as the boy let out a breath and seemed to brighten as if the weight of the world was lifted from his shoulders. He followed Kerry to the back, and Jesse could hear her as she gave the boy a snack and then began to patiently teach him how to fix his mess.
Jesse turned to his brothers. "Just give me a few months," he said. "Let me try to keep the shop open for a few months—six months to a year at most—and see if I can't keep it afloat. The shop is our legacy, and one that meant too much to Mama Joy and the community to just let it go. Not without giving it a try at least. Hell, it's our last name on the awning," he said, pulling his hole card by bringing up the Strong name they all collectively took on when Mama Joy became their official adoptive mother.
"Yeah but how can you do it alone? The fact remains that we all have jobs we still have to do. You said it's our legacy—it wouldn't be fair for you to be the only one working here, taking this on all alone," Lucas said.
Just then Kerry stepped back into the main room with Errol. She walked the boy to the front door, letting him out with a wave, then flipped the lock. Turning to all of them, she looked at Jesse, then switched her gaze to Lucas, breaking the silence and rocking their world. "He won't have to do it alone," she said. "I'll stay on and work with him, at least until he gets the hang of how the shop runs."
Jesse blinked. The woman standing before him was Kerry, but suddenly she bore little resemblance to the quiet, shy Kerry who had always hovered in various corners of the shop, a shadow to Mama Joy. No, this woman was all confidence and intelligence underneath her curly twists and thick-rimmed eyeglass frames. He looked at her deeper. There was something new and different behind her all-knowing chestnut brown eyes. The corner of her lips quirked up, twitched ever so slightly as if the secrets of the world were hidden behind their full lusciousness just itching to escape.
Wait. Luscious lips? Secrets? What was he thinking, and what was she talking about, staying on? This was Kerry. Their Kerry Girl. Why was she doing this? And how could he let her? She just finished school—a few years late, but she'd received her degree and now had her own plans and dreams lined up. This was her chance to get out. To move on. Why wasn't she taking it?
It was Damian who voiced Jesse's concerns out loud. "Why would you do something like that? You've just finished school, Kerry, you've gotten your degree. Why would you put your plans on hold to help us?"
Kerry was quiet as she seemed to be thinking while she looked around the shop, her already soft brown eyes growing wistful and slightly sad before she focused back on them. The look she gave Jesse went through him and seemed to reach down deep, past his heart even, all the way to his soul, before she blinked and turned to Damian to answer his question. "Maybe it's like you said. Maybe I've learned a lot more from Mama Joy than you all even know. And I think it's time for me to share that before I take the next step and move on. I know it's what she would have wanted."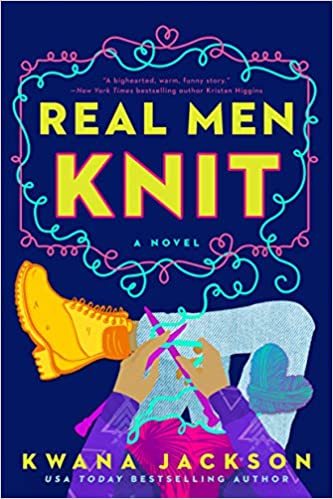 When their foster-turned-adoptive mother suddenly dies, four brothers struggle to keep open the doors of her beloved Harlem knitting shop, while dealing with life and love in Harlem.
Jesse Strong is known for two things: his devotion to his adoptive mom, Mama Joy, and his reputation for breaking hearts in Harlem. When Mama Joy unexpectedly passes away, he and his brothers have different plans on what to do with Strong Knits, their neighborhood knitting store: Jesse wants to keep the store open; his brothers want to shut it down.
Jesse makes an impassioned plea to Kerry Fuller, his childhood friend who has had a crush on him her entire life, to help him figure out how to run the business. Kerry agrees to help him reinvent the store and show him the knitty-gritty of the business, but the more time they spend together, the more the chemistry builds. Kerry, knowing Jesse's history, doesn't believe this relationship will exist longer than one can knit one, purl one. But Jesse is determined to prove to her that he can be the man for her—after all, real men knit.
Romance Contemporary [Berkley, On Sale: May 19, 2020, Trade Size / e-Book, ISBN: 9781984806505 / eISBN: 9781984806512]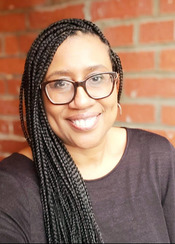 USA Today bestselling author and native New Yorker Kwana Jackson spent her formative years on the A train where she had two dreams: (1) to be a fashion designer and (2) to be a writer. After spending more than ten years designing women's sportswear for various fashion houses, Kwana took a leap of faith and decided to pursue her other dream of being a writer. A longtime advocate of equality and diversity in romance (#WeNeedDiverseRomance), Kwana is the mother of twins and currently lives in a suburb of New York with her husband.