Hi, Lexi! Welcome to Fresh Fiction. Please tell us a little bit about yourself!  
Thank you for having me! Let's see, I'm a romance author, I like to line dance, my own hero is a veteran, former fire chief, and current Coast Guardsman. I'm a native of nowhere but live in Florida at the moment. I have two kittens named Bailey and Whiskey. I make my own ice cream every weekend. I always wear a hat. Did I mention I'm a romance author? I'm a New York Times and USA Today bestselling author of romance inspired by the classics and I now have 30 books out. Yay!
The Time Weavers Inc. series is such a fun premise! For readers who aren't familiar, can you set up the series for us and tell us where A POCKET IN TIME fits in? 
Oh, I'd love to! Time Weavers, Inc. (TWI) is basically "Quantum Leap" meets "Charlie's Angels" meets "X-Men." 🙂  TWI was created by the mysterious Jules who only communicates telepathically with the agents of TWI. Disruptors have been changing history to the detriment of mankind, so the agents go back in history and basically reset history on its original path. The first book in the series, ON HIGHLAND TIME, I set in 1306 Scotland where the agent is sent to make sure the hero dies in battle as he had originally. Yes, she totally falls for him, which causes major heartache. A POCKET IN TIME is the second book and Katz is sent back to Regency London (1815) to infiltrate a gang of young pickpockets protected by a disillusioned war hero, Lord John Byron.
Katz Almira, a skilled fighter and pickpocket, is sent back in time to steal a message from a Napoleon spy and deliver it to Lord John Byron! What did this modern woman have to learn about herself to make it in the past? 
Great question! Katz prides herself on not caring for others and being completely selfish and self-reliant, but in this foray back in time, she discovers that despite her best efforts, she not only has a heart, but cares for the people she interacts with in the past, her fellow agents in the present, and the future fate of mankind! This is a key lesson for Katz in order for her to be successful on this particular mission.
Jack is actually Lord John Byron and isn't always what he seems. What are your favorite things about him? What makes Katz change her initial perceptions of him? 
No, Jack has had it rough. His experience in the Peninsular Wars has caused him to look at his life and his society in a new light and neither seems worthy of pursuit. I love that he finds purpose in protecting the young pickpockets and that his newfound respect for women of all stations causes him such confusion when it comes to Katz. Most of all, that he sees the worth of Katz and all of them just makes my heart melt. Katz, like me, can't help but succumb to Jack's kindness and nobleness, even though it frustrates her at times. His perseverance despite his physical limitations has her admiring him even as she enjoys teasing him out of his serious moods.
Your writing is heavily influenced by the classics, but you twist them when it comes to your own novels. What do you love about classic literature, and what are some of your favorites?  
I love the classics because they are so well crafted with fascinating characters, detailed settings, and life-changing themes, but I dislike the fact that most of them end unhappily. I like taking my favorite parts from a story and creating a new one. It could be the overall concept, character traits, setting, some plot elements, or even the theme, but I always give it a happily ever after. Some of my favorites are The Legend of Sleepy Hollow, Frankenstein, A Christmas Carol, the Outcasts of Poker Flat, Dante's Inferno, Canterbury Tales, Midsummer Night's Dream, Jane Eyre…well, I could go on forever.
Time Travel can be a tricky construct! What do you do to keep things "streamlined," so to speak? 
Excel spreadsheets! Those are key to keeping everything straight, especially with so many moving parts, characters, special abilities, and historical events. I like reading Time Travel, but I like it best when the characters, preferably the heroines, have control. Then the responsibility of messing with time falls squarely on their shoulders. How they handle that says a lot about who they are, so my excel spreadsheets include lots of background and character traits, too.
 What can readers expect from you next?  
I have two projects in the works. I am, of course, working on the next in the Time Weavers, Inc. series. In this one, Jane is sent back to Viking days. It appears someone has messed with history again and America doesn't exist since it was claimed by the Vikings when they first set foot on Canadian shores.
I'm also in the midst of writing the 7th book in my Eden series, which is inspired by Emily Dickinson poems. These are hotter books than Time Weavers and take place on planet Eden. These are a utopia with flaws stories and more of a societal sci-fi romance than a technological sci-fi romance, especially because every woman must take at least two "husbands."   
Rapid Fire Random Questions
What's the best live performance you've ever seen?: A long time ago, I was privileged to see the Cain Mutiny Court-Martial live in London. It starred Charlton Heston and Ben Cross. It was incredibly powerful.
Biggest Pet Peeve: Disrespect toward anyone.
Writing advice you live by: "Write what you know." I've always written sensuous romances inspired by the classics. I've often told people that I write what I know- classic literature and sex 🙂
If you could have a magical power, what would it be?: I would love to be able to portal to other worlds and meet other species.
Gold or silver?: Gold.
Favorite outdoor activity: Sitting in a hot tub. LOL. Oh, you mean doing something outdoors? Since I don't have a hot tub…yet, then sun tanning. I know, it's bad for me, but I only stay out for 30 minutes. It's just enough time for a new scene to pop in my head.
Do you have or have you had a nickname?:  Hee-hee. Yes. Lexi! That's why I chose it for my pen name. I did have another nickname in high school. Peers joked around and called me Sexy Lexi. I was so embarrassed because I was super shy.
Favorite holiday:  Halloween. I've always loved dressing up as someone or something else. Plus, the candy! I have a super sweet tooth, so I only eat sweets on Sunday- all day- until my stomach hurts. It's the only way I can avoid them during the rest of the week.
A book you wish you could read again for the first time:  The very first romance novel I ever read: Shanna by Kathleen Woodiwiss.
You have a totally free afternoon – no deadlines, no obligations, no Twitter notifications!  What do you do?: I lie in the sun, eat ice cream, and take a nap! Then when I'm refreshed, I go for a walk around the property with my husband before he makes us dinner. He's an amazing cook. Former firefighter, you know.
Time Weavers Inc. #2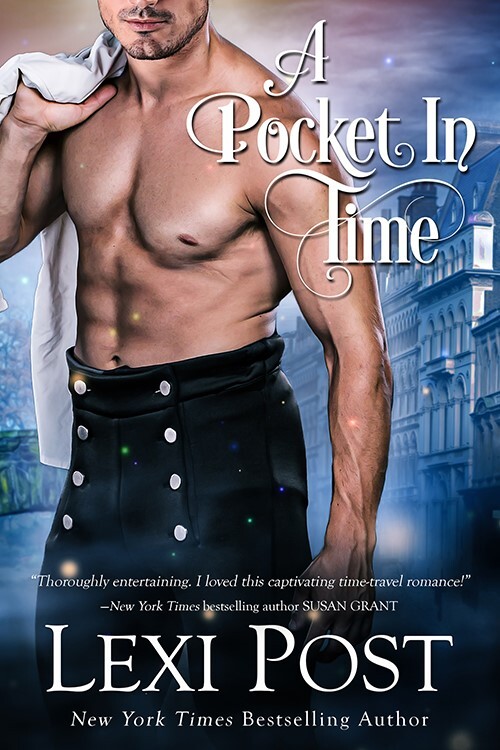 Katz Almira's mission is clear—travel to the past, steal the note that ruins the world, travel back to the present. Easy. She's the best pickpocket Time Weavers, Inc. has ever had. Posing as a poor widow in Regency London, she convinces her target, Lord John Byron, a man as sexy as he is wealthy, to take her in off the streets. But at her request to keep her hidden, instead of his cushy manor, he allows her to stay in a warehouse full of orphan boys he cares for there.
It's the perfect place to hide, and bonus, her new roommates can help her find the mysterious note. With John as their pseudo-father, they know what he does every day, and with who. Katz can't afford any distractions, but she soon finds herself getting attached to the orphans—and John—even helping him plan for their futures.
Each day she spends in the past is another day closer to her deadline, another day closer to returning to her own time, and another day John and this makeshift family get dangerously closer to her heart. But Katz staying in the past would have dire consequences for them all…
Romance Historical | Romance Time Travel [Entangled: Amara, On Sale: February 22, 2021, e-Book, / eISBN: 9781649371300]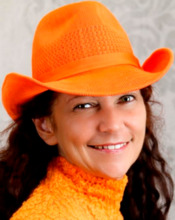 Lexi Post is a New York Times and USA Today best-selling author of sensuous romance inspired by the classics. She spent years in higher education taking and teaching courses about the literature she loved while reading her favorite romance authors. It wasn't long before she decided to marry her two first loves. From hot paranormals to sizzling cowboys to hunks from out of this world, Lexi provides a steamy read with a "whole lotta story." Lexi is living her own happily ever after with her husband and her cat in Florida. She makes ice cream every weekend, loves bright colors, and you will never see her without a hat.