When I was a little girl, I didn't pay attention to what I wore. I put on a pair of jeans and a T-shirt. I had no sense of fashion, nor did I care. Toward the end of my high school years was when I started to be interested in fashion and makeup. I enjoyed flipping through Vogue and Glamour magazines. And a little part of me wished I could live the lifestyle of a runway model or work in the fashion industry world. So, I decided to write about it.
Something Great series is based on two brothers, Maxwell and Matthew. They took over their parent's fashion magazine business called Knight Fashion. Hot alpha males, but sweet and loving, they know how to swoon their women as they live in the fast, rich life of Glamour and scandal. Then afterward, I wrote a spin-off based on the models, and I thought to title the cover SEXIEST MAN ALIVE, and book two is titled SEXIEST COUPLE ALIVE. The cover even looked like a magazine.
I met Nathan Weller at Utopia convention and thought he would be perfect for my cover. I was thrilled when he agreed. When you get a chance to see the cover, you'll know why I picked him. There had been many sexiest man alive on the cover of People Magazine over the years. Below are my personal Top 5 Sexiest Men Alive:
Henry Cavil—Superman was my first love; therefore, he is my number one pick. And I have to say, he makes the perfect Superman.
George Clooney—I have to say, George aged well. Something about they way he talks and the way he smiles makes me all mushy.
Davin Beckman—why? Look at him. LOL!
Chris Hemsworth—I love his accent, and he's a great Thor.
Channing Tatum—I love how he's a family man with a big heart. AND he can dance. That's a huge plus for me.
If you could pick top five, who would it be?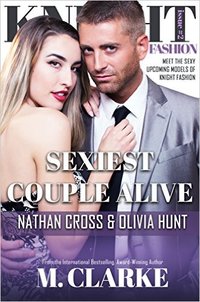 Nathan Cross is living his dream. Not only is he modeling for Knight Fashion Magazine, recently voted "sexiest man alive," but he is dating a beautiful photographer who could be his new future. When he unexpectedly reunites with his past love, his world crashes around him. Two loves. The past or the future: which one will he choose?
Olivia's past choices come back to haunt her and could ruin everything she has worked so hard to build. Troy has the power to destroy any hope of happiness. She will do everything to keep that from happening, even if it means giving up her second chance with Nathan. Lies. Revenge. Scandal. Olivia could lose it all.
SEXIEST COUPLE ALIVE just released yesterday! The first book in the series, SEXIEST MAN ALIVE is on sale for $.99. Pick up your copy before the price goes back up!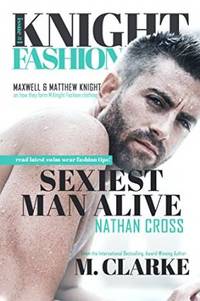 Nathan Cross is a struggling actor waiting tables at a local restaurant to make ends meet while he attends endless auditions. Though his hopeful career moves at a slow pace, Olivia is the strength and sunshine in his life … until she leaves him. One day, he is offered a contract with a modeling agent, leading him to work for Knight Fashion Magazine—a dream job he never imagined would become a reality.
Olivia swore she would always put her career first, and that's precisely what she did when she left Nathan. Having a deadbeat dad and watching her mom work two jobs to make ends meet have been her driving force. When she is offered a modeling career, she drops everything—even the love of her life—and moves to New York.
Though Nathan and Olivia try to steer clear of one another, working for the same fashion magazine causes their paths to cross again, and old emotions are awakened. Can Nathan forgive Olivia or will he take the next step with the woman he is currently dating? Will Olivia do everything she can to break them apart? Or will she choose her career over her heart … again?
Also, check out the book movie trailer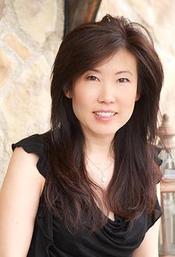 International Bestselling Author Mary Ting/M. Clarke resides in Southern California with her husband and two children. She enjoys oil painting and making jewelry. Writing her first novel, Crossroads Saga, happened by chance. It was a way to grieve the death of her beloved grandmother, and inspired by a dream she once had as a young girl. When she started reading new adult novels, she fell in love with the genre. It was the reason she had to write one-Something Great. Why the pen name, M Clarke? She tours with Magic Johnson Foundation to promote literacy and her children's chapter book-No Bullies Allowed.