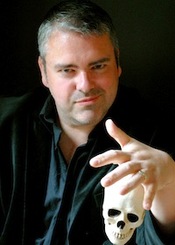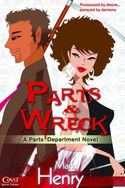 When I tell people that my first paranormal romance, PARTS & WRECK, is set amongst the vivisectionists of a secret organization that repossesses demonically infected transplant organs they do tend to give me a double take and then they ask, "What's a vivi-who?" It's basically someone who cuts into a living person or animal, usually for the purpose of research, but not always. The premise is intended to bring to mind that urban legend of tourists waking up in bathtubs with plenty of ice cubes but far fewer kidneys. Which doesn't sound very romantic, but that's where you'd be wrong. Dead wrong.
So the next question is, invariably, "How in the heck did you come up with that? Well, when the opportunity to write a romance for Covet (Entangled Publishing's paranormal romance flagship), I knew I had to do something very different. I'd always incorporated elements of romance into my urban fantasy stories but never used the romance itself as the central story. I had to rise to the challenge without watering down my weirdness. If you've never read my zombie comedy series (Happy Hour of the Damned, et al), you need to be aware that there's a ton of strange (and irreverent) plot twists in store for you in PARTS & WRECK.
It's getting harder and harder to bring something new to the table in paranormal romance, so I knew I wanted to look at something other than a sympathetic monster (a vampire or a werewolf) and use humans predominantly as the characters. I've always been fascinated with urban legends and the origins of these tall tales. One in particular I've always been drawn to is this waking up with an organ removed story. So I started with that and dragged out my trusty loom and started threading in stuff that I thought might work with it. The best of these stitches came when I brought in the satanism and possession craze in the late seventies and early eighties. I thought, what if as a result of all the media attention, demons had to find a more subtle way to possess us. Exorcisms were rampant, there were films about them, TV documentaries. There were satanists on every block it seemed. Those were pretty weird times.
So it came together like this: smart demons didn't go all head spinny, they chilled in a body until it died, hiding in the person's organs and making sure they were donors. When the body hit the morgue it had become a demonic dirty bomb for the transplant network. Exorcists had to think quick to keep up with the new threat and the Parts Department was born.
I hope people are going to love PARTS & WRECK, sexy Wade and his crazy, sassy assistant Luce. They do get themselves in a heck of a lot of trouble, I mean a TON, more than a bit of it of the sexy variety. It's frantic and crazy and laugh-out-loud funny. But don't take my word for it!
"Like being on a roller coaster after drinking tequila shots: rollicking and hilarious. I loved this paranormal romance. Every adult on the planet should read it … Now!"
– Michele Bardsley, National Bestselling Romance Author
"One of the funniest romances I've ever read. Who knew vivisection could be so sexy? A fun, frenetic frolic of a book."
– Nicole Peeler, author of the Jane True series (Tempest Reborn)
Wade Crowson, a brutish and brooding playboy and veteran vivisectionist for the Parts Department, runs into more than he bargained for in new partner, Lucid Montgomery, a quirky beauty with a bizarre secret and a string of psychiatric diagnoses she tries hard to keep hidden. Loving Luce will stamp a demonic target on her back and thrust Wade into a frenzied whirlwind of hilarious misunderstandings and, quite possibly, a stripping gig for emptynesters. Can they withstand the savagery of an exorcism (with or without the split pea soup) and come out alive and …in love?
To comment on Mark Henry's blog please click here.