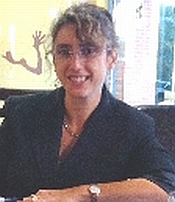 Hello everyone. I'm thrilled to be here today at Fresh Fiction as I recently celebrated the release of my first novel, SECRETS OF THE KNIGHT from Crescent Moon Press.
Tomorrow is Valentine's Day, my second favorite holiday of the year. It's the holiday that celebrates love and romance. And it often involves chocolate. What's not to like about a day like that?
What I really find romantic is a good paranormal love story. Many of my friends celebrate the day by popping in their idea of a classic Valentine's Day movie.  Maybe Love Actually. Or perhaps Casablanca. But my tastes run more toward the supernatural themed romance. See, I'm much more inclined to dig out my DVD's of Buffy the Vampire Slayer. I happen to think Buffy contained one of the best love stories of all time. It had all the elements – forbidden love, bad boy hero, dangerous liaisons. I couldn't wait to turn it on every week, not so much to watch Buffy kick demon-butt but more so to see how she and Angel were going to overcome all the obstacles that were keeping them apart. It really bums me out now that she's on a show playing an evil twin and he's helping some genius doctor dig up bones. But I digress.
The paranormal element in a love story takes it to a whole other level. It's the ultimate example of prohibited love. Think about True Blood or The Vampire Diaries. And of course, there's Twilight. Enough said.
When the hero is a supernatural being, regardless of who the heroine is, the taboo of the relationship is compelling and intriguing.
But the other element that sucks me into a love story is the idea of a rekindled romance. When two lovers have found each other and something or someone drives them apart, the love doesn't just die, does it? Often, it remains strong for years after. Sometimes even forever.
In Secrets, the hero has been forced to turn his back on everything he holds dear, including the woman he loves. When they find each other on a remote Caribbean island, the sparks don't just fly, they ignite! In the meantime, he's becoming a preternatural being of the night who must defeat an evil sorceress in order to save the woman he can't bear to lose again. (Read on after the post for an excerpt.)
So what do you think? What are some of your favorite romance books or movies, paranormal or otherwise? Please share your comments. I'd love to read them – as I'm delving into that box of chocolate!
Happy Valentine's Day!
To comment on Nina Jade Singer's blog please click here.