Anyone who is familiar with my books knows I love writing paranormal stories. I've written all kinds of shifters—lions and tigers and bears, oh my, and some dragons, too. But my Salvation Pack series is all about werewolves. What is it about wolf shifters that we all love so much?
Whatever the mythology a writer chooses to use in a series, a werewolf is generally stronger than a human male. They are tough and it takes a lot to kill one. And they heal fast from any wound they might sustain. My werewolves are strong, fast, and all incredibly stubborn, which can be a good thing at times, but frustrating as a writer when they insist on having their own way.
Werewolves have a culture of their own. They're outside the norms of society, even if they sometimes live alongside humans. Their world can be violent and primal. My Salvation Pack wolves are all strong, alpha males, any of whom could be leader of his own pack. Instead, they've banded together to protect those they love. There is no in-fighting as there is among other packs.
They shift into wolves. I mean, it doesn't get much cooler than that. There is a freedom associated with running wild with the wolves, being able to race through the woods in the middle of the night with no worries. Knowing you're pretty much the apex predator.
Werewolf instincts run deep. They fight harder and they love harder. They'll do whatever it takes to protect their pack. My wolves will take a life if necessary to protect their pack and their mates. They don't enjoy it, don't go looking for a fight, but they'll never back down from one either. If someone starts a fight with them, the Salvation Pack men will finish it.
Last but not least is the pure fantasy of the alpha male. Mating with a werewolf male can be intense. When the Salvation wolves find mates, there is nothing they won't do to keep them happy, in bed and out. It's not all fighting, though. There is one badass werewolf named Gator who loves to cook. There's nothing sexier than a man who can cook. But at their core, they're all protectors.
In my latest Salvation Pack book, WOLF OF HER OWN, the hero is an older wolf, one who has waited his entire life to find the woman who is his mate. But Elise has emotional scars from her past that make her wary of men. She may never be ready or willing to trust another man. But Mikhail is more than up for the task, even if it that means having to hide their relationship, at least at first.
It's amazing what a wolf will do to be with the woman he loves…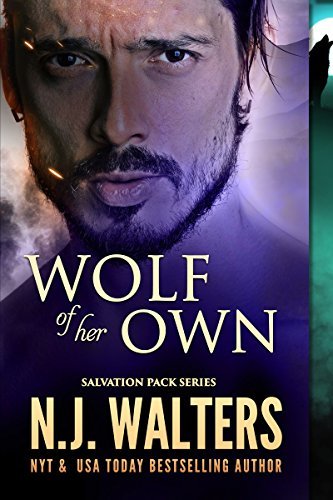 Mikhail Matheson may be an outsider in Salvation, but he stays with the pack to be close to his sister. It has nothing to with the fact that Elise—the most fascinating woman he's ever laid eyes on—is part of the pack. Mikhail has wanted Elise for years, but being with her could cost him his life. Soon he'll have to decide if he's going to leave the pack or risk it all to pursue a place at her side.
After escaping her abusive mate, Elise LaForge has made a home in Salvation with her sons. She never expected to have her emotions stirred up by the always serious and seriously handsome Mikhail. But can she finally put her past behind her and dare to move on?
When danger creeps into the pack, both she and Mikhail have to be willing to sacrifice everything to have a chance at love.
Romance Paranormal [Entangled Amara, On Sale: May 28, 2018, e-Book, ISBN: 9781640630826 / eISBN: 9781640630826]

Life brings surprise and love along the way.
N.J. Walters is a New York Times and USA Today bestselling author who has always been a voracious reader, and now she spends her days writing novels of her own. Vampires, werewolves, dragons, time-travelers, seductive handymen, and next-door neighbors with smoldering good looks—all vie for her attention. It's a tough life, but someone's got to live it.