Music is a big part of my writing experience, along with dancing, whenever the mood strikes. My playlists are an eclectic mix of genres. Hip-hop, pop, rap, reggaeton, jazz, country, classical—they're all part of my music selections. The perfect song can put me in the right headspace and drown out any competing thoughts that get in the way of my productivity. I become lost in the music as well as the story while I'm writing. From a practical standpoint, it also blocks out my upstairs neighbors when they get too loud.
A killer playlist becomes the soundtrack for my story and often reflects the attitudes of my characters, along with the ups and downs they face. For instance, in THE FIRST RULE OF HOOK-UPS, as I thought about Alexa and her friends at the Breakup Bash—a party held at Club Escapade to help women get over one man and move onto a better one—a few of Beyoncé's songs about women and empowerment came to mind. And in the book, when the DJ cues up a line dance song and Alexa joins in, the "Cupid Shuffle" was playing through my headphones.
Music also helped in imagining Raphael, a retired male dancer and co-owner of Club Escapade, going back on stage to save the club. In the story, months earlier, he'd met Alexa on her bachelorette night at the club, and he hasn't forgotten her or the supposedly innocent, all-in-fun kiss they shared. As I wrote about him dancing his cowboy routine, listening to country music provided the visual of him confidently working his assets on stage. I must admit, by the end of writing that scene, I was drooling over him, right along with Alexa.
My playlist for this book contained quite a few songs, but here are five of them that kept the words flowing onto the page.
1. Best Friend – Sofi Tukker
Girlfriends aka side-chicks are an important part of THE FIRST RULE OF HOOK-UPS. Alexa's friends, Nat and Cori, are there for her and never let her down. They are also going through tough times with their own breakups. Their stories are up next in the Breakup Bash series.
2. Crying in the Club – Camila Cabello
https://youtu.be/NlrYn_dZdqk (Skip the intro and start at 1:42)
Alexa attending the Breakup Bash isn't about crying over the past. She's ready for a better future.
3. Shape of You – Ed Sheeran (*Major Lazer Remix feat. Nyla & Kranium)
At first, Alexa is convinced that avoiding entanglements, even short-term ones, is the answer, but one night with Raphael changed everything.
4. New Rules – Dua Lipa
But breaking the rules never felt so good!
5. Just the Way You Are – Bruno Mars
Remaining authentic to who you are in life and in love is important.
Well, that's the end of my playlist. I hope you enjoy the music along with getting to know Raphael and Alexa in THE FIRST RULE OF HOOK-UPS.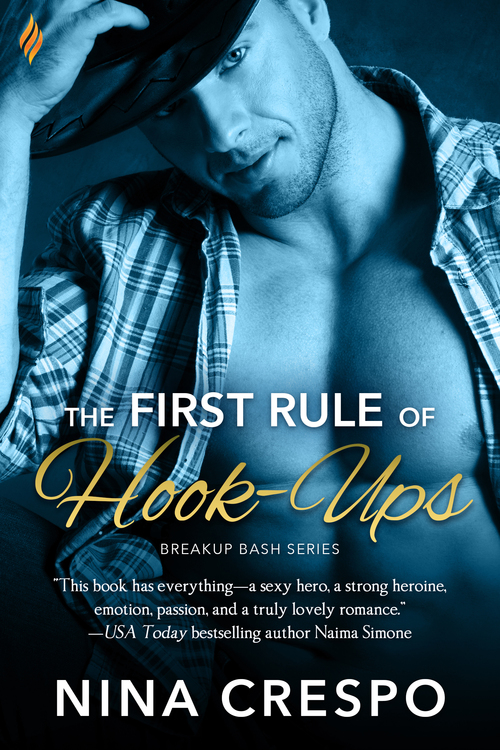 Someone once told me that there are worst things than
being left at the altar. Well, not many, in my experience.
That was six months ago, though, and my life has moved on.
Heck, I have a new job lined up and I'm leaving town.
But, I can't deny that my love life kind of sucks.
That's why I let my friends convince me to join them for
Club Escapade's Breakup Bash. And we might just be
disillusioned enough to actually enjoy it. Last time we were
here, it was for my bachelorette party. That night, I met
one of the dancers – Raphael – and when he flirted with me,
I almost forgot I was engaged. And there's a part of me that
never forgot him.
Now, it seems my friends have wandered off and I'm thinking
about calling it a night. Until the music begins and I see
Raphael, my secret fantasy, on stage. And this time, I'm
definitely not engaged…
Romance Erotica Sensual [Entangled Brazen, On Sale: November 12, 2018, e-Book, ISBN: 9781640636934 / eISBN: 9781640636934]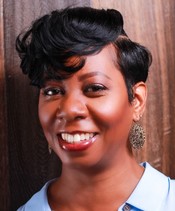 Nina Crespo lives in Florida where she indulges in her favorite passions — the beach, kick boxing, a good glass of wine, date night with her own real-life hero and dancing.
Her lifelong addiction to romance began in her teens while on a "borrowing spree" in her older sister's bedroom where she discovered her first romance novel and became lost in the world of happily ever after.
Curiosity about people and places, including what's beyond the stars, fuels her writer's imagination. This wellspring of inspiration allows Nina to create sensual contemporary and paranormal stories, which she hopes will feed your own addiction for true love and romance.