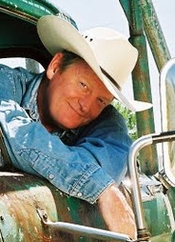 Congratulations to Craig Johnson! His novella—SPIRIT OF STEAMBOAT—was chosen as the inaugural One-Book-Wyoming read. Johnson will be traveling all over the state of Wyoming starting with a reception for the State Legislature and then a public signing at the state library in Cheyenne the next day. He'll then be visiting libraries all over Wyoming to talk about SPIRIT OF STEAMBOAT and his other Longmire books.
Pre-order the latest Longmire ANY OTHER NAME (May 13) today and the series Longmire
returns in summer 2014, date to be announced. Be sure to follow Reel Vixen for updates.
A holiday tale from the New York Times bestselling author of the Walt Longmire mystery series, the inspiration for A&E's hit show Longmire
"It's a question of what you have to do, what you have to live with if you don't."
Sheriff Walt Longmire is reading A Christmas Carol in his office on December 24th when he's interrupted by the ghost of Christmas past: a young woman with a hairline scar across her forehead and more than a few questions about Walt's predecessor, Lucian Connally. Walt doesn't recognize the mystery woman, but she seems to know him and claims to have something she must return to Connally. With his daughter, Cady, and his undersheriff Vic Moretti in Philadelphia for the holidays, Walt is at loose ends, and despite the woman's reticence to reveal her identity, he agrees to help her.
At the Durant Home for Assisted Living Lucian Connally is several tumblers into his Pappy Van Winkle's and swears he's never clapped eyes on the woman before. Disappointed, she whispers "Steamboat" and begins a story that takes them all back to Christmas Eve 1988, when three people died in a terrible crash and a young girl had the slimmest chance of survival . . . back to a record-breaking blizzard, to Walt's first year as sheriff, with a young daughter at home and a wife praying for his safety . . . back to a whiskey-soaked World War II vet ready to fly a decommissioned plane and risk it all to save a life.
Back to the Spirit of Steamboat.
In Any Other Name, Walt is sinking into high-plains winter discontent when his former boss, Lucian Conally, asks him to take on a mercy case in an adjacent county. Detective Gerald Holman is dead and Lucian wants to know what drove his old friend to take his own life. With the clock ticking on the birth of his first grandchild, Walt learns that the by-the-book detective might have suppressed evidence concerning three missing women. Digging deeper, Walt uncovers an incriminating secret so dark that it threatens to claim other lives even before the sheriff can serve justice—Wyoming style.
Craig Johnson
Craig Johnson is the author of the Walt Longmire mystery series and is the recipient of the Western Writers of America Spur Award for fiction, the Mountains and Plains Booksellers Award for Fiction, and the Nouvel Observateur Prix du Roman Noir. He lives with his wife, Judy, in Ucross, Wyoming—population twenty-five.