A trope is a recurring literary device that's been proven to appeal to a broad audience. Consciously or not, writers use them all the time. I choose two or three tropes when I'm planning a story. After that, I really don't pay a whole lot of attention to them. The story is what it is.
Her Secret, His Surprise is a secret baby story. (Yep, that's a trope.)
I love babies. But I've never been a huge fan of secret babies. In real life if a baby has to be kept a secret, at least one of the parents probably has some major issues and I don't have much patience for people with issues either. (Other people, I mean. I've got plenty of my own. Those are okay because I try to keep them to myself.)
As a writer, however, a secret baby and parent(s) with issues proved an irresistible challenge to me. Children aren't bargaining chips in adult relationships. How could I possibly make myself, let alone readers, like these people?
Enter Cass, Logan and little Olivia.
Cass has baggage. She had a terrible childhood, so when she becomes pregnant by a man she can't find, she chooses to give her baby the childhood she never had. Her baggage makes her strong, not weak. Logan is a spy. When he ends up working undercover at Cass's company and can't tell her who he really is, he has to prove to her that he's awesome despite what she sees as his reluctance to step up to the plate. Her world is pretty black and white, but everything about Logan's is shades of gray. (Not that kind of gray. This book is PG.) Logan's problem is that he wants Olivia—and Cass—desperately, but he can't do anything about it until his investigation is over. And yet he can't stay away from them either.
Olivia, however, is never used as a bargaining chip in Cass and Logan's developing relationship. I couldn't bring myself to go there. Children come first. Cass and Logan are united in their need to protect her.
So, my question for readers is: How do you feel about secret babies in romances? For or against?
Because, after I finished writing this story, I'm now definitely in favor. Olivia's one lucky little girl to have parents this awesome.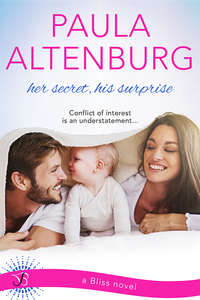 Conflict of interest is an understatement…
Since being disowned by her strict father, Cass Stone has spent her adulthood trying to prove him wrong. Her drive has led to more success than her family ever thought she'd achieve, and life is looking great. Not even an incredible and mysterious one night stand that leaves her a single mom can trip her up…until the father of her baby stumbles back into her life, as sexy as ever.
Logan Alexander hasn't forgotten the night he spent with Cass two years ago, but he never expects to end up undercover as her assistant. His job saves lives—like it should have saved his brother—and he can't afford complications. It's difficult enough to maintain his cover as a carefree wanderer when he realizes his attraction to Cass hasn't faded…and then he meets Cass's daughter.
**Note: this title was originally released July 14, 2014 and has been updated to be a closed door Bliss.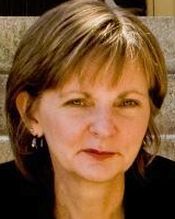 Multi-published author Paula Altenburg has written short contemporary romance, as well as fantasy and paranormal romance, for publishers Entangled, Tule, and Tor. Her Spy to Have, the first book in her new and exciting Spy Games series, marks her 13th published work of fiction. She lives in rural Nova Scotia, Canada, with her husband and two sons. Once a manager in the aerospace industry, she now enjoys working from home and writing fulltime.