Becoming Us is the 101st book by bestselling, Christy award-winning author Robin Jones Gunn. Her repertoire includes picture books, non-fiction, gift books, anthologies, a memoir, devotionals, co-authored works, and 48 novels. You'll find an exclusive list of all her novels below. Robin and her husband live in Hawaii where she is currently writing the next book in the Haven Makers Series.
Dear Beautiful Readers,
I'd like to tell you a story.
My birthday was a few weeks ago and two of my friends took me to get pedicures. As we were selecting our nail color, a woman came over and asked, "Are you Robin? The writer?" I nodded and she said, "You have to meet my mother."
I shook hands with a lovely woman who looked a bit older than me. The daughter explained to her that I was the author of the book, Finding Father Christmas, which was made into a Hallmark movie by the same title.
She kept my hand in hers and started tearing up as she said, "Your movie changed my life."
I admit that I love Hallmark movies as much as anyone but I wasn't sure how a heartwarming Hallmark Christmas movie could change her life.
"I was just like Miranda in the movie," she told me. "I didn't know who my birth father was. After seeing how she went on her search it motivated me to do the same."
"What happened?" I asked.
"I found him but just like in the movie, he'd already passed. I discovered, though, that I have a half-brother. I met him. It was wonderful. I never would have done that if it hadn't been for the story you wrote."
The daughter reached for my other hand and said, "You have no idea how much your work has changed our family. I've been reading all your novels now and they have filled me with such hope. Please don't ever stop. We're so glad you decided to become a writer."
I hugged them both and thought, If you knew how I stumbled into this career, you'd laugh.
My 35-year career as a writer began when my husband pushed me out the door to go to a writers' conference. I was always telling stories and he kept saying I should learn how to write. I was so mad at him for being so persistent. I had other ideas of how I wanted to spend my life. I wanted to help people and share God's love through ministry opportunities.
The conference was wonderful. I learned how to write and submit my first short article. It was accepted for publication and I was paid $10!
That grand success led to more articles, interviews and short stories. Those led to some magazine assignments. When our two children were little, I wrote several dozen children's books. Fourteen of them were accepted for publication.
I then started writing my first novel for teens as a result of a youth group camping trip when a tent full of 13-year-old girls challenged me to write the kind of stories they wanted to read. They even promised to help me. And they did! After two years and ten rejections from publishers, the first book in the Christy Miller series was accepted for publication.
I kept going, turning into a full-time writer and a grateful stay-at-home mom. The ideas for new stories keep coming and I continue to be blessed to work with some wonderful publishing houses.
The mom and daughter at the nail salon made me realize that the books and movies I'm working on are doing what I always wanted to do – they are sharing God's love and bringing hope to people.
It's probably no surprise that those are the themes you'll find when you read "Becoming Us." In this new story about friendship, you'll discover five women in their 30's who are becoming to each other the sisters, mothers and friends some of them never had. They create a close community by sharing their hearts and their lives with each other in both vulnerable and celebratory ways.
If you grew up reading about Christy in the more than forty novels where she appears, you'll especially enjoy a reunion with her now that she's married and has kids of her own. Here's the complete list in case you have some catching up to do.  
Enjoy!
Fiction by Robin Jones Gunn
YA Novels
Christy Miller Collection
Volumes 1,2,3 and 4
Sierra Jensen Collection
Volumes 1,2,3 and 4
Departures
Christy & Todd: The College Years
Until Tomorrow
As You Wish
I Promise
Katie Weldon Series
Peculiar Treasures
On a Whim
Coming Attractions
Finally & Forever
Christy Miller's Diary
Contemporary Women's Novels
Christy & Todd: The Married Years
Forever With You
Home of Our Hearts
One More Wish
Christy & Todd: The Baby Years
Sandy Toes
Salty Kisses
Sunset Lullaby
Haven Makers Series
Becoming Us
Sisterchicks® Series
Sisterchicks on the Loose
Sisterchicks Do the Hula
Sisterchicks in Sombreros
Sisterchicks Down Under
Sisterchicks in Gondolas
Sisterchicks Say Ooh La La
Sisterchicks Go Brit
Sisterchicks in Wooden Shoes
Stand Alones
Gardenias for Breakfast
Under a Maui Moon
Canary Island Song
Cottage by the Sea
Romance Novels
Glenbrooke Series
Secrets
Whispers
Echoes
Sunsets
Clouds
Waterfalls
Woodlands
Wildflowers
A Kiss at Sunset Beach
Father Christmas Novellas – Now in 3 Hallmark Movies
Finding Father Christmas
Engaging Father Christmas
Kissing Father Christmas
Haven Makers #1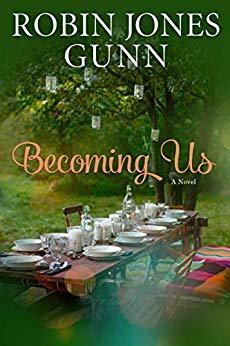 From the author of the best-selling Christy Miller and Sisterchicks series comes a refreshing novel that celebrates the gift of friendship.  
Five young women, including beloved Gunn characters Christy Miller and Sierra Jensen, gather for a simple Christmas party and soon become unlikely best friends.
Told from the viewpoint of Emily, a timid young mom going through a difficult season of life, the regular gatherings provide the much-needed community she's longed for. As the women begin sharing their life stories in Becoming Us they are endeared to each other and find ways to challenge, encourage, and help each other become the nurturing mothers they wished they'd had when they were growing up. They see themselves as Haven Makers and unite to be remembered for what they do and not for what was done to them.
Women's Fiction [Multnomah, On Sale: May 7, 2019, Trade Size / e-Book, ISBN: 9780735290754 / eISBN: 9780735290761]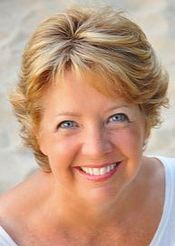 ROBIN JONES GUNN is the best-selling author of over 100 books, including the widely popular Christy Miller series, Sierra Jensen series and award-winning Christian fiction in the Glenbrooke and Sisterchicks series. Her non-fiction titles include "Praying for Your Future Husband" and "Spoken For". Robin's Father Christmas novels have been made into 3 Hallmark movies. Her books have sold over 5.5 million copies worldwide. She and her husband live in Hawaii.