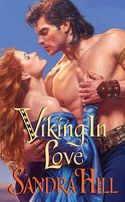 Is there anything more fun than discovering a new-to-you author, and then having the excitement of finding and reading that author's backlist? This has happened to me over and over. Sometimes I'm embarrassed to come so late to some authors.
Most recently, I was re-reading some old Maggie Osborne western romance novels, and when I was done decided to look for a similar writer. I found her. Cait Logan. Her historicals are great, just the right amount of humor against a western backdrop.
The same happened with Mary Balogh, Dorothy Garlock, Lisa Kleypas, Karen Moning, Suzanne Brockmann, Georgette Heyer, Beverly Lewis, and others. I just read a good Elizabeth Hoyt book and will be looking for others by her.
I'm especially pleased when readers tell me this about my own books. For example, VIKING IN LOVE, my first book from Avon and a return to historical romance for me, is the eighth in a loosely linked series. That means it is a stand-alone book and can be read out of order. I love when readers, late in discovering me, say they love a particular book and are going to buy my backlist.
To read more of BOOK GLOMMING DON'T YOU JUST LOVE IT! and to comment for a chance to win please click here.