Romance Writers of America 2007 National Conference is next month in Dallas. Most romance writers will be at the literacy autographing fundraiser. The problem: you can only bring FIVE books with you to have signed. All others books must be bought there. Hence, my self imposed separation from buying new books in May – July because I know that I will be spending a lot of cash at the RWA literacy fundraiser.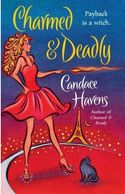 I have broken my vow of purchasing new books once. I went to a local book signing for Candy Havens and her latest, Charmed & Deadly. It is book three in a series revolving around a witch named Bronwyn. Now I am on a mission to locate the first two books in the series. Of course it is a slippery slope and I've already printed a Border's coupon to use this weekend. 20% off. I ask you, who can resist 20% off?!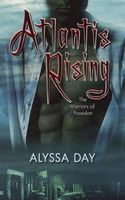 That said, I am making headway through my TBR pile. I picked up a copy of Alyssa Day's Atlantis Rising at the romance readers' tea last month and finally got around to reading it this week. A really, really good paranormal romance and the beginning of a series so I will of course be looking for the next installment, Atlantis Awakening, when it comes out in November. There was a novella, Wild Hearts in Atlantis, out last month in an anthology called Wild Thing, so I'm adding that to my list of to be purchased at the RWA literacy fundraiser… if I can wait that long. Sigh.
I'm not a HUGE fan of paranormal romances (not that you would know it with all the witches, vampires and Atlanteans that I've been reading about lately) so I am surprised by how much I've enjoyed them lately. I may be less likely to buy a paranormal that I know nothing about than say a romantic suspense (my addiction) that I know nothing about, but if a book is recommended then I am likely to try it.
What I have been reading (or rereading):
Exposure by Susan Andersen (one of my favorites to reread)
The Oldest Kind of Magic by Ann Macela (this is another good paranormal)
Chasing Stanley by Deirdre Martin
The Rancher's Second Chance by Nicole Foster
Atlantis Rising by Alyssa Day (did I mention this was really good?)