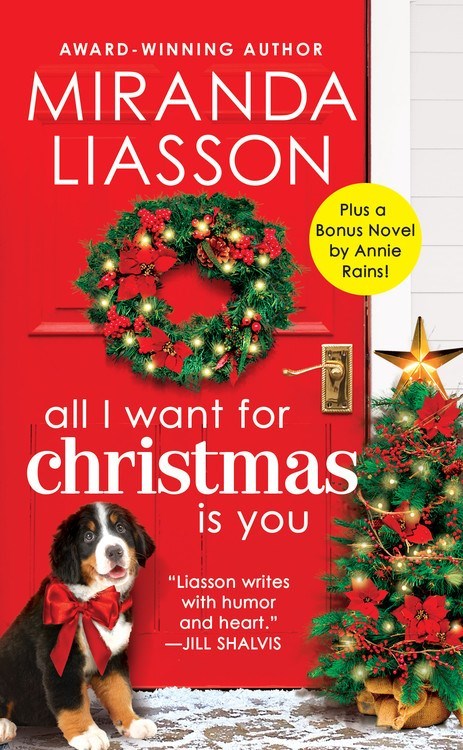 Being naughty was nice, but now these friends-turned-lovers are in for an unforgettable Christmas…
The award-winning author who writes with "humor and heart" (Jill Shalvis, New York Times bestselling author) invites you to visit the charming small town of Angel Falls.
Being naughty was nice, but now these friends-turned-lovers are in for an unforgettable Christmas…
Just when Kaitlyn Barnes vows to get over her longtime crush on Rafe Langdon, they share a sizzling evening that delivers an epic holiday surprise: Kaitlyn is pregnant. And if that weren't life-changing enough, everyone assumes they're engaged — a charade they must keep alive through the holiday season. But Kaitlyn knows Rafe better than anyone, and Rafe settling down is about as likely as Santa skipping Angel Falls this year…
Rafe would rather Kaitlyn believe a lie — that their night together was a fling — than face his own dangerous truth: he's falling for her, hard. After a devastating loss, Rafe swore he'd never risk his heart again. Yet the longer they pretend to be engaged the more Rafe starts to want the real thing. But now he has to convince Kaitlyn he wants to be by her side — and their baby's — for all the Christmases to come.
Includes the bonus novel Christmas on Mistletoe Lane by Annie Rains!
Romance Contemporary | Small Town | Holiday [Forever, On Sale: October 29, 2019, Mass Market Paperback / e-Book, ISBN: 9781455541850 / eISBN: 9781455541867]

This book has yummy cookies, Christmas miracles, and a sensational seasonal love story!
The Angel Falls legend says that any couple who kisses in front of the angel statue and throws money into the falls, will have true love forever…
"All proceeds from photos this month go to the shelter party for Christmas presents for the kids," Mary said, wielding her camera like a weapon. So how about puckering up for charity?"
"For charity," Rafe said. "Of course."
"Of course," Kaitlyn said, as Rafe slid his arm around her back. And oh, she felt his warmth, right through her coat. The dangerous warmth that she was afraid to feel.
"This has gotten out of hand," she whispered in Rafe's ear. "We really should say something."
"Yeah," he said, staring at her lips and sounding very unconcerned. "We'll clear everything up…later."
She didn't protest. She was too busy staring right back at his nice full lips too. Wait. What was she doing? What were they doing, buying trees and ornaments, walking around holding hands, and now this? And was it wrong to want to keep that magic going just a little while longer?
Mary positioned them so that the statue was directly behind them. Rafe still had his arm around Kaitlyn. If only she could have a little breathing room so she could think, because everything was so muddled in her head.
Suddenly there was the sound of money hitting the ground, pinging and scattering at their feet. A quarter hit one of the iron posts on the bridge and ricocheted into the water.
"Oh-oh," Kaitlyn said. They all knew the legend: drop in some money, kiss your honey, true love forever, yada yada.
Rafe looked down, searching for the source of the change.
Kaitlyn blushed. "Some change just fell out of my coat pocket," she said. She didn't say both pockets had holes, because he'd have a field day with that.
"You don't have to kiss me," she rushed on to say. "After all, that quarter plunged right into the falls, just to let you know." She pretended to laugh, but for some reason she wasn't finding anything funny.
"I don't care about the folklore," Rafe said. "But I do care about kissing you." He tugged her closer and, smiling, he looked around, scanning something behind her head.
"What are you looking at?" she asked.
"Just making sure no other Christmas trees are about to fall on us."
She couldn't help laughing. Rafe was so…ridiculous. Funny. Unexpected. Wonderful. Yes, sometimes he was just wonderful.
"Did you say a quarter fell in?" Mary asked. "They say you need two for the legend to count."