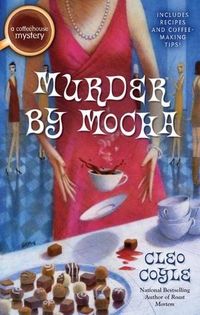 Buy at




Coffee House Mystery #10
Berkley
August 2011
On Sale: August 2, 2011
Featuring: Clare Cosi
384 pages
ISBN: 0425241432
EAN: 9780425241431
Hardcover
Dying for Chocolate
For over twenty years, my husband and I have been living and working in New York City. Our bestselling Coffeehouse Mysteries—a unique blend of crime, romance, humor, and action—are set here, too, around a landmark Greenwich Village coffee shop called the Village Blend.
The newest title, MURDER BY MOCHA, was actually inspired by a true crime (a true culinary crime). At the start of the story, coffeehouse manager Clare Cosi is providing freshly roasted beans for a lucrative new product: Mocha Magic Coffee. Laced with herbal aphrodisiacs, this coffee is supposed to put the "magic moments" back into your love life. "Supposed to" is the operative phrase.
Clare is skeptical about the drink's potency—although she does plan to test it on her boyfriend, NYPD Detective Mike Quinn (when he's off duty, of course). Before she gets that chance, a corpse shows up in the hotel room of the product's creator, and then disappears without a trace of evidence that a crime took place. That night, at the product's launch party, a pretty, young executive is found dead.
Clues mount up fast, and Clare concludes that someone wants control of this coffee's secret formula and will to kill to get it. In the meantime, Mike becomes embroiled in a cold case murder, and shocks Clare when he says she holds the key to helping him solve it.
Toss in a stunning revelation about Clare's beloved octogenarian employer (Madame), and a budding relationship between Clare's daughter and a rogue cop named Franco, and you've got one heck of a caffeinated tale.
With half the cast going a little loco from the Mocha, I have to say, this was one of my favorites of the series to write. The book has made two Top-10 lists for Best Cozy Reads and (thanks to my readers) has become a Top-7 national mystery bestseller. I hope you go loco for it, too.
Read the prologue and first chapter by clicking here.
"…a tasty espresso-dark tale of multigenerational crime and punishment lightened by the Blend's frothy cast of lovable eccentrics."
—Publishers Weekly
"This rich and entertaining mystery blends atmosphere, unforgettable characters, and a killer plot that will keep readers hooked until the very end…"
—RT Book Reviews
The Coffeehouse Mystery Recipes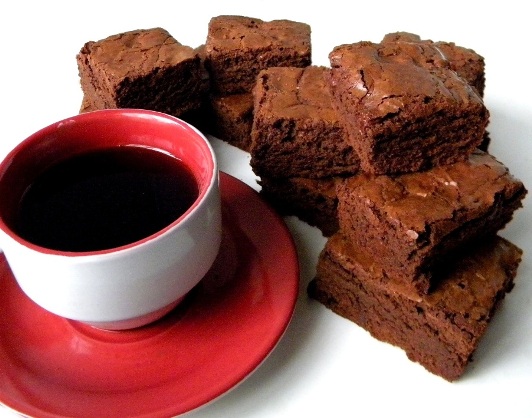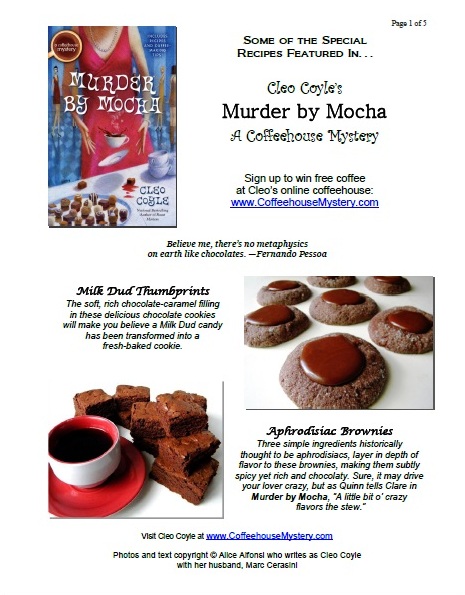 All of the Coffeehouse titles include tasty recipes. In MURDER BY MOCHA, Clare whips up a delectable menu of chocolate treats. Her recipes are included in the appendix of the book. Today, I'm sharing one of my favorites with you—Aphrodisiac Brownies!
Get a free recipe PDF of Cleo's Aphrodisiac Brownies by clicking here.
For a peek at more of the recipes featured in MURDER BY MOCHA, click here. (Note: This is an illustrated document and may take a moment to appear.)
CONTESTS
Win a Gourmet Chocolate Tasting!
Tell me your favorite Coffeehouse Mystery character, other than Clare Cosi, and you could win a gourmet chocolate tasting. Learn more by clicking here.
Win Free Coffee!
To see more of my recipes; sign up for my weekly coffee drawings; or learn about my two bestselling mystery series, visit my online coffeehouse at www.CoffeehouseMystery.com
Coffeehouse Mystery Titles
"Clare and company are some of the most vibrant characters I've ever read. Coyle also is a master of misdirection and red herrings. I challenge any reader to figure out whodunit  before Coyle reveals all."
—Mystery Scene Magazine
Now in Audio
I am delighted to share the news that AudioGo (BBC Audiobooks America) has acquired the rights to produce the entire Coffeehouse Mystery backlist. MURDER BY MOCHA and book #1 of the series, ON WHAT GROUNDS, are now available in audiobook form at Audible.com, iTunes, and Amazon. More Coffeehouse audiobooks will be released in the coming months. Sign up for my newsletter to be notified of future releases. To sign up, simply send an e-mail that says "Sign me up" to [email protected] This will also enter you automatically in my weekly free coffee drawings.