Dear Reader,
Have you ever found yourself in a rut? Felt trapped? Jen's fresh out of college, expecting that the world is her oyster, only to find that oysters are pretty slimy. Life started out okay, but things fell apart quickly, leaving Jen unemployed, single, and on the verge of homelessness. To top it all off, she's suffocating under medical bills it'll take decades to pay off. Then Jen gets a call, letting her know she's been chosen to appear on a reality show she barely remembers trying out for back. The show comes with a total break from real life, with a $250,000 grand prize to the winner. And it also comes with a very good-looking fellow contestant…
When my best friend Stephanie emailed me several years ago, suggesting we try out for a new reality show together, I never dreamed we'd wind up here. My inner introvert won, and I didn't try out that day, but she did. When she was cast, I threw myself into supporting her, helping her gain the votes needed to stay on the series each week. My lifetime love of reality shows finally had a purpose. When I decided it was high time to finish writing my first book, her experiences inspired me. Fueled by a lifetime interest in reality TV and romantic comedies, these books practically wrote themselves.
I hope you enjoy reading the Reality Star Series as much as I loved writing it. Thanks for reading.
Reality Star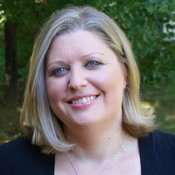 Laura Heffernan is living proof that watching too much TV can pay off: AMERICA'S NEXT REALITY STAR, the first book in the REALITY STAR series, is coming from Kensington's Lyrical Press in March 2017. When not watching total strangers participate in arranged marriages, drag racing queens, or cooking competitions, Laura enjoys travel, baking, board games, helping with writing contests, and seeking new experiences. She lives in the northeast with her amazing husband and two furry little beasts.
Some of Laura's favorite things include goat cheese, Buffy the Vampire Slayer, Battlestar Galactica, the Oxford comma, and ice cream. Not all together. The best place to find her is usually on Twitter, where she spends far too much time tweeting about writing, Canadian chocolate, and reality TV.