Shana Galen gives the background to THIRD SON'S A CHARM
As an author, I get rejected more than you might think. Readers only see the published books, not all the proposals that didn't make the cut. But what I've learned is that sometimes rejection is a blessing in disguise. If my original idea for a new book series hadn't been rejected, Third Son's a Charm would never have been written.
The rejection certainly didn't feel wonderful at the time, of course. I remember feeling pretty low when I returned to my hotel room at the writing conference where my proposal was turned down. Fortunately, my longtime friend and fellow author Sophie Jordan was rooming with me. When I told her what happened, she said, "What about The Dirty Dozen?" I told her I wasn't in the mood to watch a movie, but she said, "No, as a premise for a new series!"
And that was when the lightbulb went off! I would write a series about twelve former soldiers, men who had returned from the war against Napoleon, and who were trying to fit back into London society. These aren't the heirs and the spares, but the younger brothers deemed expendable.
Ewan Mostyn is the hero of Third Son's a Charm. He was known as The Protector during the war, and he saved many of the other men's lives. He's the strong, silent type—big and muscled with platinum blond hair. He's hired by the Duke of Ridlington to protect the duke's daughter. Lady Lorraine is a chatterbox who thinks she's in love with Ewan's nemesis, his cousin. She keeps trying to elope, and Ewan keeps thwarting her plans. Over time, Lorrie realizes maybe she doesn't mind being thwarted so much!
Here's a short excerpt from the book, where Ewan and Lorrie discuss her misguided feelings for her would-be fiancé.
"You think my cousin loves you? He loves your dowry."

"How dare you!"

"And if you were ever kissed by another man or two—kissed soundly and thoroughly—maybe you'd see that Francis Mostyn is not the paragon you seem to think."

He put his hands on her upper arms, and even through his gloves he could feel the coolness of her skin.

"And who will kiss me? You?"

He heard the note of hope in her voice. There was anger as well but he'd heard the hope. She wanted him to kiss her. Well, better him than the next man she encountered, who might be a rake or worse. He would give her what she seemed to want so desperately, and then she would see that there was a world of men beyond Francis Mostyn.

And what lies he told himself. He wanted to kiss her and had been looking for the excuse.

Ewan slid his hands to her back, gliding one down until he pressed the small of her back. He exerted a minimum of pressure to pull her closer and into his arms. She felt so small against him, and she trembled with cold. He wrapped his arm around her tiny waist, anchoring her to him then lifted his other hand and brought it to her face. His palm caressed her cheek then he pushed his fingers into her hair and allowed his thumb to trail along that cheek. How he wished he wasn't wearing his gloves. He imagined her cheek felt like velvet and her hair like spun gold.

And then he did not have to imagine any longer because he put his lips where his thumb had been and traced the path. As he'd thought, her skin was as soft as a flower petal and as delicate too. He hadn't expected the scent of her to waft past his nose and snare him. She smelled of vanilla and sweet cream and something else uniquely her that made him hungry for far more than food.
The book will be on sale November 7, but if you sign up for my newsletter you get a free short story showing how the Survivors began as well as a peek at the heroes in the upcoming books, No Earls Allowed and An Affair with a Spare.
Follow Shana!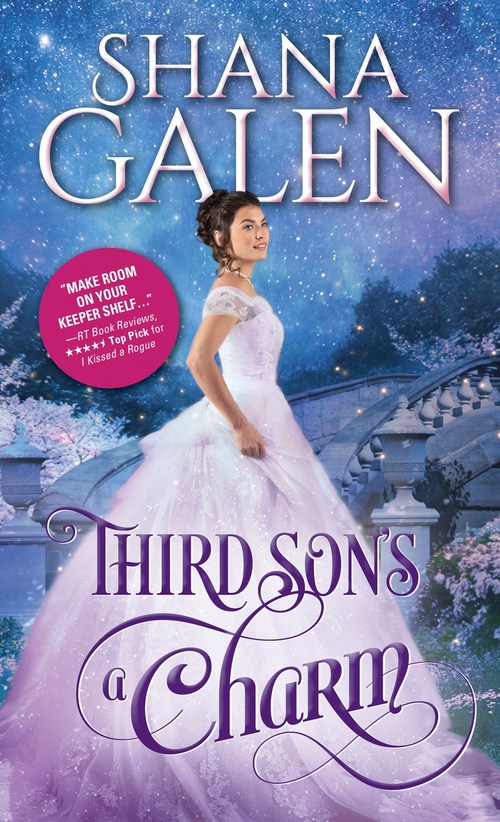 Ewan Mostyn thinks a job as a duke's daughter's bodyguard will be easy—but Lady Lorraine has a few tricks up her sleeve that spark an undeniable passion
Fiercely loyal to his friends and comrades, Ewan Mostyn is the toughest in a group of younger sons of nobility who met as soldiers and are now trying desperately to settle back into peaceful Society. Ewan trusts his brawn more than his brains, but when he's offered a job watching the Duke of Ridlington's stubbornly independent daughter, he finds both are challenged.
Lady Lorraine wants none of her father's high-handed ways, and she'll do everything in her power to avoid her distressingly attractive bodyguard—until she lands herself in real trouble. Lorraine begins to see Ewan's protectiveness in a new light, and she can only hope that her stoic guardian will do for her what he's always done—fight for what he wants.
Romance Historical [Sourcebooks Casablanca, On Sale: November 7, 2017, Mass Market Paperback / e-Book, ISBN: 9781492657033 / eISBN: 9781492638995]

Love conquers all, even a man of very few words