Chemistry. I'm intrigued by observing chemistry in real life and in fiction. No, not the kind with protons, neutrons, and electrons. I left that kind of chemistry behind after my freshman year of college. As an author, I'm talking about that intangible quality between characters we've come to refer to as chemistry. When a hero and heroine experience mutual chemistry, they're drawn together, despite external conflicts and obstacles—even if they think they're all wrong for each other.
When I'm not writing and reading, I love to watch movies. It's evident to me when there is…or is not…chemistry between the characters. The hero and the heroine challenge each other, grow to respect each other, and find each other intriguing. And in the case of a romance, chemistry fuels their attraction. To me, chemistry is the difference between a movie I want to enjoy more than once, and a film that's not nearly as memorable.
I'm a huge fan of Robert Downey, Jr. and Rachel McAdams in Sherlock Holmes. As Holmes matches wits with alluring criminal Irene Adler, a woman who can hold her own with the brilliant detective, the sensual tension is magnetic. One can well imagine the passion that would be kindled between Sherlock and Irene behind closed doors.
My favorite romantic movies feature heroes and heroines are strong-minded, spirited, and challenge each other. Conflicts arise, but they are drawn together in spite of—or perhaps because of—the tension.
Here are some of my favorite movie or television couples with terrific chemistry:
Han Solo and Princess Leia – Star Wars
The rogue and the warrior princess—a match made in a galaxy far, far away that exudes chemistry. Han Solo, you're my favorite rogue!
Dana Scully and Fox Mulder – The X-Files
The skeptic and the believer come to respect each other and form an enduring, passionate bond. Intelligent and sexy, their chemistry was off the charts.
Bridget Jones and Mark Darcy – Bridget Jones' Diary
Opposites attract, ending in a memorable happily-ever-after that proves nice guys do "kiss like that". Bridget's down-to-earth vulnerability and Mark Darcy's concealed-behind-his-arrogance sensuality make the film one of my all-time favorite romantic comedies.
Rick O'Connell and Evelyn Carnahan – The Mummy
The mercenary rogue and the librarian – two intelligent, witty, made-to-challenge-each-other characters. Their chemistry makes the film one of my go-to movies when I want to escape.
John and Jane Smith – Mr. and Mrs. Smith
Assassin versus assassin—enemies to lovers—a dull marriage comes to life when the heroine and hero are forced to see the other through different eyes. I never tire of watching this movie.
The heroes and heroines in my Her Majesty's Most Secret Service series display chemistry that draws them together as they triumph over the obstacles to their love. In my latest release, When A Lady Kisses A Scot, the heroine and hero have been separated for a decade after Rose is forced to run for her life and go into hiding, allowing the world, including MacAllister, to believe she was dead. Writing Rose and MacAllister's journey to happily-ever-after was an emotional experience for me, as they faced down the losses in their life and the wounds on their hearts to forge a love together. MacAllister respects Rose for her inner strength, resilience, and keen intelligence, while Rose is drawn to Mac's courage and strength of character. Together, they can overcome the enemies who threaten their lives and their love.
Which fictional couples do you think display terrific chemistry? What aspects of their relationship appeal to you the most?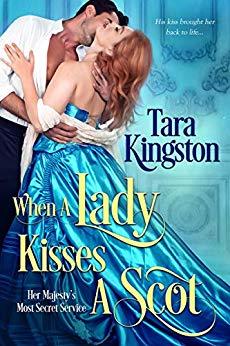 Rose Fleming has been presumed dead for the last decade. It required leaving everything—and everyone—she loved behind, including MacAllister Campbell. But faking her death allowed her to stay safe until the threat posed by a mysterious villain had passed. Believing it's finally safe again, she returns…and runs smack into the only man she ever loved.
But Rose was wrong and the stalker she escaped years ago still has her in his sights.
Ten years ago, Mac mourned the death of the woman he loved. It's taken years to heal his heart only to discover that not only is Rose still alive, but still in grave danger. Mac can forgive Rose's deception, but he'd never be able to forgive himself if he didn't protect her from the evil still stalking her.
The only thing worse than losing her once would be losing her again… and he won't let that happen.
Romance Historical [Entangled, On Sale: July 22, 2019, e-Book, ISBN: 9781640638419 / eISBN: 9781640638419]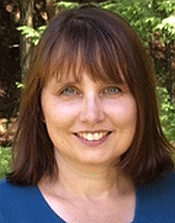 Award-winning author Tara Kingston writes historical romance laced with intrigue, danger, and adventures of the heart. A Southern-belle-out-of-water in a quaint Pennsylvania town, she lives her own love story with her real-life hero and a pair of deceptively innocent-looking kitties in a cozy Victorian. The mother of two sons, Tara's a former librarian whose love of books is evident in her popping-at-the-seams bookcases. It goes without saying that Tara's husband is thankful for the invention of digital books, thereby eliminating the need for yet another set of shelves. When she's not writing, reading, or burning dinner, Tara enjoys movie nights, cycling, hiking, DIY projects, collecting dolls, and cheering on her favorite football team.