Ready for a little preview into Terry Spear's new series?
"Okay, well, we're continuing our adventure and will let you know when we stop for the night. For now, I need to locate a pet hotel."

Candice growled.

"A hotel that allows pets, I mean." Owen smiled at her. Then he signed off with Cameron and Faith.

Four hours later, Owen pulled into a service station to fill up on gas and check for a hotel in the area that allowed pets. He found one, made reservations, and climbed back in the car. "Okay, I got a room, but they only had one king-size bed. We can order room service if you still haven't changed back."

Candice nodded.

"I'll probably have to take you in the side door after I register for the room. Better than parading you through the lobby, since I don't have the proper ID to show you're a service dog, in case anyone believes you're a wolf and won't let you stay." He pulled out of the ser­vice station and back onto the road. "Having a pet really narrows down the availability of a hotel we can stay at."

She let out her breath.

"I know. It's a pain, but at least we both didn't shift. What a disaster that would be." Twenty minutes later, he located the hotel and pulled into a parking area with trees and grass away from the front of the hotel. Three people were walking their dogs—a German shepherd, a schnauzer, and a poodle mix of some sort. Owen rolled down the window for Candice so she would have some fresh air while he was inside checking in. "Okay, I'll be right back."

He hurried off to obtain their room key, hoping she didn't shift in the middle of moving from the car to the hotel room. As soon as he went inside, he saw a number of guests standing in line to check in and a couple of fami­lies with small dogs in carriers. When he finally made it out of the hotel with the key card in hand, he walked around to the side of the building and saw several guests taking pictures of Candice as she watched for him out the window. He wished now he'd told her to lie down, though he was sure that wouldn't have gone over big with her.

"Will they let you take your wolf dog in the hotel?" a man asked, pausing with his cell phone in hand.

"She's a Samoyed," Owen said.

"She looks like an Arctic wolf. Or wolf dog, I should say."

Owen had to grab Candice's collar and leash, and he wished he'd thought about it before he had an audience. He put her collar on while she waited patiently, like a good service dog would. Then he attached the leash. He thought she'd just jump off the seat onto the asphalt, but she waited for him to give her a command. He smiled.

"Come, Candice."

She leaped out of the car, and everyone took a quick couple of steps back, the cameras still snapping away. She ignored them, and Owen reached in to grab their lap­tops, locked the car, and proceeded to the side entrance.

"Can we pet her?" asked one of the older kids, who was about ten.

Now Owen was in a predicament. He wanted it to be Candice's choice. After all, she wasn't a pet. She stepped forward and licked the boy.

Owen smiled. Okay, good PR work. If it had been him, he probably would have been annoyed. The kids began petting her, and she was licking their cheeks, being a loving wolf.

"What percentage wolf is she?" the same man asked.

"She's a Samoyed. I'm not sure what other breed she has mixed in, maybe a German shepherd that made her legs a little longer than a Samoyed? I don't know. We didn't have her tested, but the person that was trying to find a home for her said she was pure. You know, so they could charge a higher price. But I suspect she has a taller dog in her background. Maybe a white German shepherd? She's mostly Samoyed."

"Really." The man sounded skeptical. "She looks closer to, hmm, maybe fifty percent wolf."

Owen swore Candice smiled at the man.

Owen started to walk her toward the hotel. "I've got to get settled. Thanks for making her feel welcome."

"Can we buy one like her?" one of the kids asked a woman as Owen headed for the side door.

Even though Candice was "safe" to be around people, he didn't want to have to worry guests who might be using the elevator and thought she looked like a wolf, so he took her up the stairs. "Sorry, we're six flights up." He unhooked the leash so she could move at her own pace.

When he reached the sixth floor, she was standing there waiting for him. He took a chance not attaching the leash, opened the door, and saw the hall was clear. "I'll grab our other bags as soon as you're settled." Thankfully, no one was around, and they made it to their room without any trouble.

When they reached the room, he unlocked the door and let her in.

Candice leaped onto the bed. Owen was thinking she'd leave white wolf hairs on the comforter, but he would just sweep them off. He knew she had to be aggravated about having to shift at such inconvenient times, and he didn't want to make her feel any less com­fortable. "I'll order room service as soon as I return."

Using the elevator, he went back down and headed out to the car where an employee was milling around outside. Owen wouldn't have suspected anything was wrong if the guy hadn't been eyeballing him so much. Owen had left his license plate number at the front desk, so they could easily look him up anyway, which meant no hiding who he was. But he suspected someone had mentioned to the staff at the front desk that he had a wolf dog.

The guy approached him and said, "Sir, one of our guests said you have a really tame wolf dog. Our policy for accepting pets is strictly dogs only. Nothing wild or partially wild."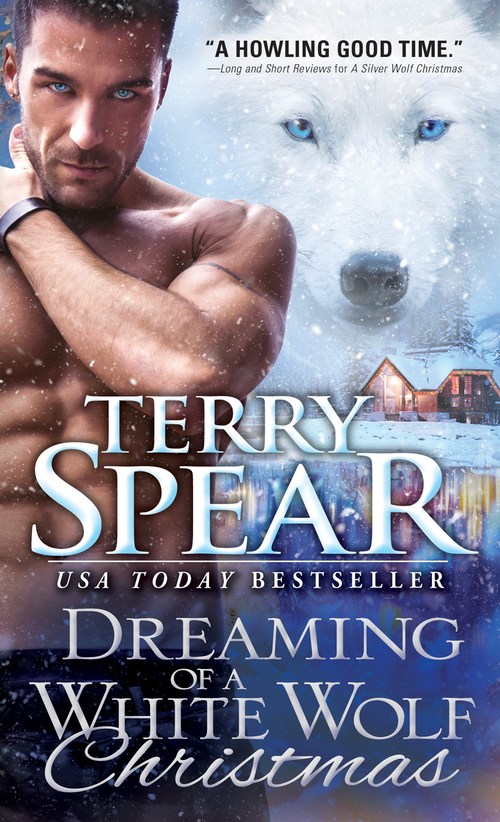 In the first installment of Terry Spear's bold, sexy White Wolf series, a romance writer's life is changed forever when a white puppy bites her and turns her into an Arctic wolf shifter.
May all your Christmas wolves be bright…
Romance writer Candice Mayfair never missed a deadline in her life―until the playful bite of a werewolf puppy accidentally turns her into an Arctic wolf shifter. Talk about a life-changing event! Candice is at the end of her rope with the unpredictable shifting, a strong desire to howl, and the need to vacuum constantly to keep the shedding fur under control.
Enter werewolf private investigator Owen Nottingham. Owen has a new mission: convince the pretty she-wolf she needs to join his pack in time for Christmas…and be his mate. It's the only way he can think of to keep her safe…
Romance Paranormal [Sourcebooks Casablanca, On Sale: October 3, 2017, Mass Market Paperback / e-Book, ISBN: 9781492645177 / eISBN: 9781492645184]

This Christmas theme paranormal will warm your heart.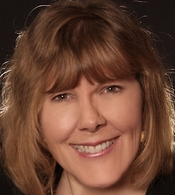 USA Today bestselling author Terry Spear has written over two dozen paranormal romance novels and medieval Highland historical romances. In 2008 HEART OF THE WOLF was named a Publishers Weekly Best Book of the Year. A retired officer of the U.S. Army Reserves, Terry also creates award-winning teddy bears that have found homes all over the world. She lives in Crawford, Texas.