1–What is the title of your latest release?
UNCHARTED 
2–What is it about?
In this follow-up to WHITEOUT, Leo—a hotshot pilot—is on a race to find a man and a virus when she crash lands in Alaska… and finds a man. She's just not sure if he's the right one. The two team up in order to survive and discovery that maybe, they have, indeed, found the right one.
3–What do you love about the setting of your book? 
Writing and researching these Survival Instincts books has been an absolute adventure because the setting—in this case, the remote Alaskan forest—is more than a place. It's a character. Leo and Elias have to work with their surroundings in order to survive. But of course, that's never easy, especially while the ice is breaking up and the elements are working against them. But there's so much beauty everywhere and that's what I loved the most… this setting is pristine and wild and it forces the characters to go back to their most basic selves. 
4–How did your heroine surprise you? 
The biggest surprise with Leo was her unexpected soft bits. She's a tough, accomplished woman who has gotten where she is through intelligence and grit. But the elements, the honesty of the man she's teamed up with, and cold, hard reality of death just around the corner strip her down to her purest self. And it's beautiful.
5–Why will readers love your hero? 
He's the best person I've ever written, bar none. He's given up everything for the greater good and it's incredibly appealing. A man with morals. I can't think of anything more attractive.
6–What was one of your biggest challenges while writing this book (spoiler-free, of course!)? 
Writing a book about a virus (that doesn't affect children) during the pandemic. While I've heard that many readers were drawn to pandemic stories, I found it incredibly hard to dive back into the world I'd created in the previous books.
7–Do you look forward to or do you dread the revision process? 
Yes! I love and hate it, in equal measures. Revisions are needed and the results are worth the time spent, but I'll admit that there are some very tough moments in there.
8–What's your favorite snack to have on hand while writing? 
Oh, I'm a potato chip woman.
9–Where would you go for an ideal writer's retreat? 
Anywhere quiet with my friends. As long as there's a sofa and my favorite writer buddies, I'm into it.
10–What's the best piece of writing advice you've received? 
Take writing advice with a grain of salt. Ignore the advice that doesn't work for you and remember that no advice is one size fits all. We are all so different, our brains wired in such unique ways, that the wrong advice (though applicable to others) can be more disheartening than helpful.
11–Who is the fictional character you want to hang out with the most? (anyone in literature!)
I'm terrible at answering these questions because I'm not a one-or-nothing person. I want to hang out with everyone and, at the very least, the characters from the book I'm currently reading and loving. My first thought, oddly, was Jeeves from the Bertie Wooster books, but that's just because I started reading them again recently. And mostly I'd like to hang with the authors. Zora Neale Hurston, Toni Morrison, Tolkien, Dorothy Parker… those are the folks I'd have a drink with.
12–What's one of your earliest book memories? 
I was a librarian's worst nightmare, so my early memories involved hoarding and late fees and piles of books beneath my bed. I'll go with A Wrinkle in Time, From the Mixed-Up Files of Mrs. Basil E. Frankweiler, and The Boxcar Children. All three of those sucked me in and made me love reading.
13–If you had to write in a different genre, what would it be and why? 
I'd really like to write Comedy, because of the pure pleasure it brings readers. Escapist, laugh-out-loud comedy. That's what I'd write.
14–What song will automatically put you in a good mood? 
"I Can See Clearly Now"
15–What is your favorite way to practice self-care?
What's that? Just kidding. Since we moved to the coast, my favorite thing to do when I'm not feeling myself is to walk to the beach. It's half a mile or so, but I'll take the long way and listen to a book or music—or nothing.
16–What can you eat and never get sick of? 
Most things? Again, it's tough for me to choose, since one of the things I love so much is variety. A pupu platter. A plethora. I'll go with salad, which I know is weird, but give me a delicious salad and some fries with mayo and a glass of something delicious and I'm really, really happy. 
17–Will you share a favorite, recent-ish book you recommend? 
I've been reading a ton of women's fiction recently, recommended by one of my readers! Some of my favorites have been When We Believed in Mermaids by Barbara O'Neal and absolutely everything by Katherine Center (I read all of her books in a week). I'd also recommend Chill Factor by Sandra Brown, which is one of those suspense books I'll never get enough of.
18–Do you have any hobbies? 
Aside from reading? I garden and sing and cook. 
19–Are you an early bird or a night owl?
If I could live off little sleep, I'd do both. I love late nights and early mornings—those moments when no one else is around.
20–What can readers expect from you next? 
I'm working on a Women's Fiction book, currently, that takes place in France… and that's all I can say about it for the time being, but I'm very, very excited!
UNCHARTED by Adriana Anders
Survival Instincts #2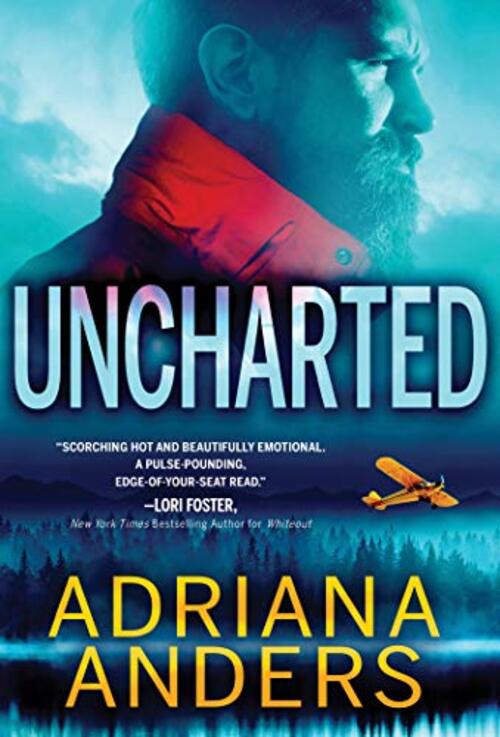 Everyone's talking about Survival Instincts, a scorching hot forced proximity survival romance series like no other:
*FATED MATES best of 2020*
*BOOKPAGE best of 2020*
Hotshot pilot Leo Eddowes is afraid of nothing and no one. So when she's asked to evacuate a man from the wilds of Alaska, she doesn't hesitate. But with enemies in close pursuit and the weather turning sour, what should have been a simple mission quickly shifts to disaster.
And there's only one way out.
When Elias Thorne disappeared, he was America's most wanted. Now he's spent more than a decade in one of the most remote places on earth, guarding a dangerous secret. Leo's arrival, quickly followed by a team of expert hunters, leaves him no choice but to join forces with her—and run. Neither is prepared for their reluctant partnership to flare into something as wild and untamed as the frozen world around them…but as desperately cold days melt into scorchingly hot nights, Leo and Elias must learn to dig deep, trust in each other, and forge a bond as strong as the forces of nature.
Stranded together in a frozen wilderness,
There's nowhere left to run…
Romance Suspense [Sourcebooks Casablanca, On Sale: August 31, 2021, Mass Market Paperback / e-Book, ISBN: 9781492677536 / eISBN: 9781492677543]
Buy UNCHARTED: Amazon.com | Kindle
| BN.com | Apple Books | Kobo | Google Play | Powell's Books | Books-A-Million | Indie BookShops | Ripped Bodice | Love's Sweet Arrow |
Walmart.com
| Book Depository | Target.com | Amazon CA | Amazon UK | Amazon DE | Amazon FR
About Adriana Anders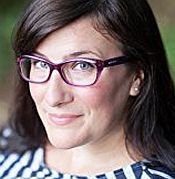 Adriana Anders has acted and sung, slung cocktails and corrected copy. She's worked for start-ups, multinationals and small nonprofits, but it wasn't until she returned to her first love—writing romance—that she finally felt like she'd come home. Today, she resides with her tall French husband, two small children and fat French cat in the foothills of the Blue Ridge Mountains, where she writes the dark, gritty, emotional love stories of her heart.
Blank Canvas | Survival Instincts
WEBSITE | GOODREADS | TWITTER | FACEBOOK | BOOKBUB | AMAZON | PINTEREST | INSTAGRAM