Thanks to Fresh Fiction for having me today and for providing me with this interesting challenge: use the letters in my title to describe HIGHLAND THIEF, book five in The Sons of Gregor MacLeod series.
Okay, here goes…
H is for Hot Highlanders—five of them, to be exact! These strong Highland lairds and foster brothers are left reeling when they meet the sassy women who finally bring them to their knees!
I is for Injustice. The lairds fight injustice to bring peace to the Highlands.
G is for Gregor MacLeod. Twenty years ago, Gregor defeated his enemies and fostered their sons—Darach, Lachlan Callum, Gavin, and Kerr—bonding them to him and to each other, thereby honoring his wife's dying wish: to bring peace to the Highlands.
H is for History. Set in 1453, Highland Thief brings medieval Scotland to life.
L is for Laird Kerr MacAlister. Kerr is the hero of Highland Thief, and he intends to marry Isobel MacKinnon…even if his bride-to-be doesn't intend to marry him.
A is for Annoyed, which is how Kerr makes Isobel feel most of the time. Of course, it doesn't help that Kerr deliberately riles her…and she deliberately riles him right back.
N is for Never say Never…as in Isobel's declaration that she will never marry Kerr.
D is for Deceive, which is what Isobel does to Kerr when she tricks him into believing she is eloping with someone else, setting up an elaborate ruse that takes them to a lonely beach in the middle of the night. It's payback for all the times Kerr ran off her potential suitors.
*
T is for Tricks and Treats…but Kerr has his own tricks up his sleeve, and he commandeers the boat that Isobel is pretending to elope on and rows it across the loch. Then they travel through the forest to an isolated cabin, where Kerr hopes to win Isobel over with training and treats.
H is for Hell in a Handbasket…because Kerr and Isobel are attacked and everything suddenly goes to Hell! Also, bonus points for Handfasting—because after the first battle, Kerr tricks Isobel into handfasting him, when she thinks he's dying.
I is for I Love You too…because after finally escaping their enemy, Kerr regrets his manipulation of Isobel and releases her from her marriage vows…except Isobel has no intention of releasing Kerr and insists on consummating their marriage.
E is for Ever After…as in Kerr and Isobel live Happily Ever After once Kerr's clan is saved and their enemy defeated!
F is for Fifth and Final. HIGHLAND THIEF is the Fifth and Final book in The Sons of Gregor MacLeod. The conspiracy that weaved throughout the series has been solved, Kerr and Isobel are happily married, and peace reigns in the Highlands…for now
Whew… that was a tough one. But lots of fun!!
The Sons of Gregor MacLeod #5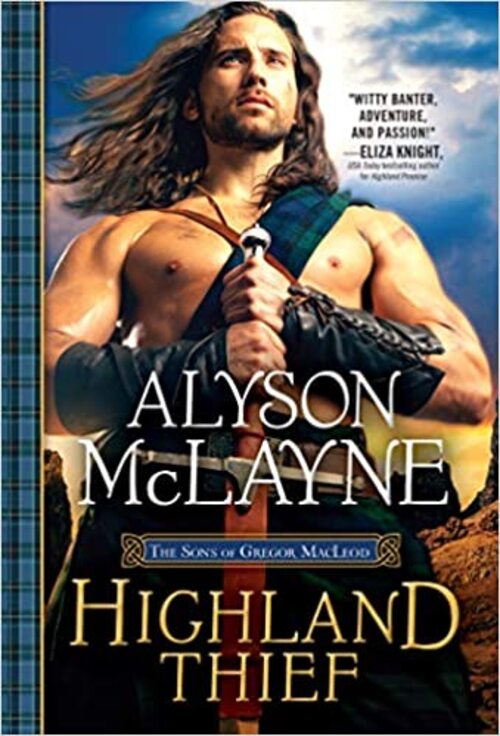 When a Highland laird decides to marry, nothing can stand in his way…not even the bride.
No one ever accused Kerr MacAlister of being a nice man. Everyone would agree, however, that when he makes up his mind about something, no one will change it. Which is why everyone knows Isobel MacKinnon will end up his wife.
Isobel spent most of her childhood in love with the tall, dark, and deadly Scot. It wasn't until she was fifteen and failed to entice Kerr into kissing her, that things turned sour. Now, Kerr is the one trying to entice her, but Isobel won't be swayed…no matter how tempting he might be.
Then Kerr discovers she may be eloping with someone else, and he has a choice to make: steal her away himself, to a place where both love and danger lurks, or let her go and face losing her forever.
Praise for Alyson McLayne's Highland romances:
"[Kept] me captivated."—Night Owl Reviews Top Pick for Highland Conquest
"Suffused with witty banter, adventure, and passion!"—Eliza Knight, USA Today bestselling author, for Highland Promise
"Heartwarming and tender beyond measure."—Mary Wine, acclaimed author of Highland Hellion, for Highland Promise
Romance Historical [Sourcebooks Casablanca, On Sale: August 31, 2021, Mass Market Paperback / e-Book, ISBN: 9781492654629 / eISBN: 9781492654636]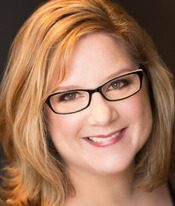 Alyson McLayne is a mom of twins and an award-winning writer of contemporary, historical, and paranormal romance. She's also a dog lover and cat servant with a serious stash of dark chocolate. After getting her degree in theater at the University of Alberta, she promptly moved to the West Coast of Canada where she worked in film for several years and met her Prop Master husband. She and her family reside in Vancouver with their sweet but troublesome chocolate lab puppy named Jasper.