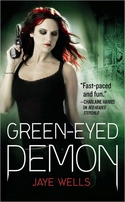 Sabina Kane #3
March 2011
On Sale: March 1, 2011
Featuring:
Sabina
352 pages
ISBN: 031603777X
EAN: 9780316037778
Paperback
$7.99
Fantasy Urban
Buy at Amazon.com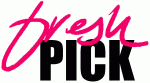 Sabina has no regrets as she explores NOLA, prepare for an action-packed experience
Green-Eyed Demon
by Jaye Wells
Things to do:
1. Rescue sister.
2. Murder grandmother.
3. Don't upset the voodoo priestess.
The clock is ticking for Sabina Kane. Her sister has been kidnapped by her grandmother, the Dark Races are on the brink of war, and a mysterious order is manipulating everyone behind the scenes.
Working on information provided by an unlikely ally, Sabina and her trusty sidekicks—a sexy mage named Adam Lazarus and Giguhl, a Mischief demon—head to New Orleans to begin the hunt for her sister. Once there, they must contend with belligerent werewolves, magic-wielding vampires and—perhaps most frightening of all—humans.
But as much as Sabina is focused on surviving the present, the past won't be ignored. Before she can save those she cares about most, she must save herself from the ghosts of her past.

You are going to have a great time with this Green-Eyed Demon, as long as you live through it.
Excerpt
CHAPTER ONE
On my extensive list of enemies, the top two spots belonged to Lavinia Kane and time. One I planned to kill as soon as possible. That is, if I didn't run out of the other one first.
The dashboard clock flipped to 10:01. The ones mocked me like two extended middle fingers. Impatience was my third enemy.
I'd already been sitting in the white van parked on a windy stretch of road near Pacific Palisades for twenty minutes. The hood of the van stood open, but the engine idled in preparation for the ambush.
"Giguhl, any visual on the car yet?"
"Negative." His voice crackled through the earpiece, but his body was perched in a tree just outside the Dominae compound.
I sighed. "Okay, thanks."
"Don't you mean Read More… Previous Picks