Sammy's heart sank. Could this day get any worse? She'd hoped to spend more time with her old neighbor, but she resigned herself to the fact that the timing apparently wasn't meant to be. Maybe it never had. Sammy's mind wandered to Mayor Allen, his wife, Connie, and Carter too. With Carter abroad at school, she hoped his parents' sharing what she had uncovered about his sister's death wouldn't cause him to want to come home. What would that kind of news do to his psyche, especially while he was so far away from Heartsford? She wondered if she had made the right decision to get involved. Did ignorance really mean bliss? She didn't think so.
Knowing Kate's death wasn't an accident didn't make it easier, though. Would bringing the murderer to trial bring Kate back? Certainly not. Or Jane Johnson? They deserved justice though and young Ethan deserved justice for his injuries too. The carnage! She needed a mind break.
Sammy decided on a whim to try to return Bradley's call. The phone went straight to voicemail: "Hey, Bradley, -um, -I mean…Brad. That feels weird on my tongue. Anyway, have a safe trip. Catch you on the flip side! Bye!"
Catch you on the flip side? What an idiot. Sammy slapped her hand to her forehead.
The dark wet road and lack of overhead lights on the county highway made visibility on the ride home tough. Without warning, Sammy saw something dart across her path just beyond her headlights. She swerved and skidded the car to avoid the large animal, but as she continued driving, she quickly came to the realization it wasn't an animal she had narrowly missed, but a bicyclist.
What the hell is someone doing out in the dark on a bike at this hour? And without reflective clothing? What an idiot!
And then it happened.
She noticed the oversized fat tires on the bike…trail tires. Her heart thundered.
Sammy's eyes flew to the cyclist, who was wearing a dark helmet and pedaling hard. Her eyes narrowed in on the letters on the back of his gray T-shirt, which reflected the name Semco in bright white letters.  . . . Duke! The adrenaline rushed through her veins like a cresting river. Her immediate instinct was to hit him. She could do it right now…and no one would blame her. I could say it was an accident. Everyone would believe her. She'd never done anything to hurt anyone in the past…but that was then. That was before Kate's killer had flashed right before her eyes.
Sammy shook her head as if to waken herself. She was appalled at the vulgar darkness that had clouded her thoughts. Thoughts like that made her no different than the killer in her mind. The thought made bile rise in her throat.
But she had to stop him! He must have known she had slowed the car to follow him, as his riding path changed. He jerked the bike into the median, kicking up wet stones, and pumped hard along the grass, waiting for a break in the thick brush to escape. He was within feet of an opening where the brush met farmland, and then he could easily squeeze through. She couldn't let that happen. With seconds to spare, Sammy lurched the car into the median to follow the fat-tired bike and bumped the back tire, just enough to cause the man to fall. She could have run him over. Right then and there. But she slammed on the brakes and skidded inches from his body. Immediately she texted Detective Nash a 911 text with instructions to leave Pine Haven. Surely, he'd find her on his way back toward town.
Sammy leapt from the driver's side and sprinted to the front of the car. The man was groaning, but he was alive. He rolled over onto his side, and Sammy knelt down to remove his helmet. And the blow hit her hard.
(C) Holly Quinn, Crooked Lane Books, 2019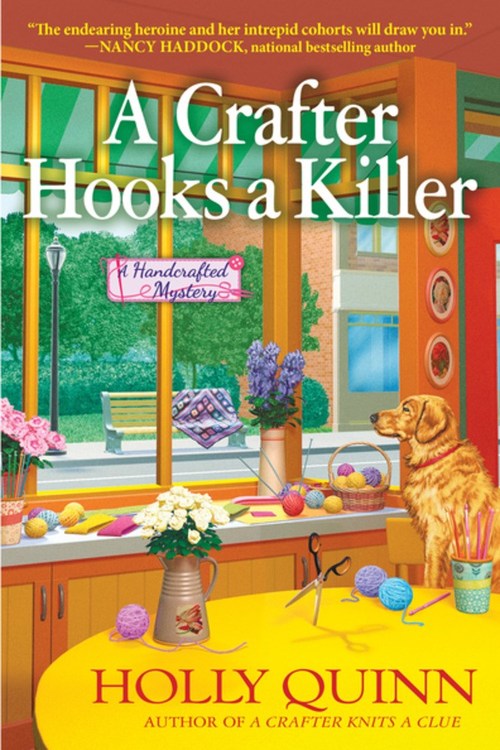 Sure to delight fans of Betty Hechtman and Maggie Sefton, A Crafter Hooks a Killer is the second installment in Holly Quinn's Handcrafted mysteries.
Community Craft proprietor Sammy Kane suspects that a tantalizing thread links the deaths of her best friend and a bestselling author. But can she weave together the clues?
Samantha "Sammy" Kane is settling into her new life in idyllic Heartsford, Wisconsin, running her late friend Kate Allen's craft shop, Community Craft when one early June day, bestselling crochet author Jane Johnson visits Heartsford. Captivated by Community Craft, Jane devotes a chapter in her new book, Behind the Seams, to the store. Sammy is honored, though satisfaction quickly turns to shock when she finds Jane strangled to death—her cold hands clutching a copy of her most recently published book, with the words "THE END" raggedly scratched into the cover.
Heavens to Etsy! Not only must Sammy contend with the author's inauspicious demise, she has to untie some knotty details from her own past. It turns out Kate's death was not what it seemed, and instead somehow hooked to Jane Johnson's demise. Handsome Detective Liam Nash is on the "skein", more than happy to see the shop owner again, if less than enamored by her sleuthing interventions. But this was Sammy's best friend—she has to know.
Fortunately, Sammy has a "lace" in the hole. As a child, she formed the S.H.E. detective team with her cousin, Heidi, and her sister, Ellie. Having already reconstituted their partnership, the S.H.E. team searches for a pattern behind the latest death. As the case starts to unravel, will Sammy and team be able to sidestep Liam quick enough to stitch together the clues?
Mystery Hobbies | Mystery Cozy [Crooked Lane Books, On Sale: June 11, 2019, Hardcover / e-Book, ISBN: 9781643850122 / eISBN: 9781643850139]

Who killed the Queen of Crafts?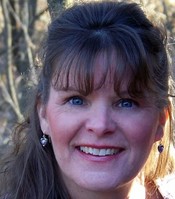 Holly Quinn has published two stand-alone fiction novels in another persona. She graduated from Carroll University in Wisconsin with a Bachelor of Science in business and a minor in marketing.