The Detroit Grizzlies are back and ready to end the plague that has been killing humans and shifters alike. TAMING HER MATE was born March 19, and I couldn't be prouder. This is a really great book and I hope you feel as excited about it as I do, because this book…well, it was born of something really amazing. Guess what it was…
A. A contract. I'm a working writer. If I don't write, I don't pay my bills. The amazing part? Just that. I write the weird things in my head, and I get paid. Which means I get paid for what I love doing the most in the world. Pretty cool, huh?
B. Bad seafood. I ate something not so fresh at a restaurant, and while I was bowing to the porcelain altar, I thought, what if I'm changing into a shifter right now? I mean, look in the mirror. I could be a mangy bear. What if shifting worked really well for some and not so well for others? Would I survive? (I decided probably not, so it would be best if my heroes and heroines saved everyone, including me.)
C. A bad shifter book. Yes, we've all read bad books, but the glory of being a writer is that when I read something crappy, I think of how I would make it better. In fact, I think I could make it spectacular! So I wrote my own amazing series and called it Grizzlies Gone Wild!
D. I woke up one day and the idea was there with my first breath thanks to the Muse! How it came to me, why it came to me, I have no idea. Hear me now: we do not question the Muse! We simply write what the muse brings and say, Thank you!
E. Pure love. Life is way too short to spend time on something I don't love, and I love writing shifter stories. I like the balance between animal and man. I love the raw passion and the tempered humanity. I love the extra power these guys and gals have. I just love writing these books. And that's the greatest rocket fuel there is for my work. The great love I have for the stories and for you, the reader who loves them as much as I do. So belly up to the bar! Taming Her Mate is a glorious tale of love and completion—male and female, bear and wolf, human and animal. Plus some pulse-pounding adventure along with some sexy times! And don't forget the laughs. I can't stop putting the funny into my books, so you'll find that there too!
Answer: E.  All the answers played a roll, but honestly, I write these books because I love them. And the best part is that my readers love them too! Here's what the Fresh Fiction review says: TAMING HER MATE is a gripping suspense that also happens to be a lovely paranormal romance, another installment in a series that becomes more impressive with each book.  Check out the full review here along with buy links: http://freshfiction.com/review.php?id=67741  
And now for those of you who'd like to win a free e-copy of the Detroit Flu saga within the series (that's book 4 and 5 Alpha Unleashed and Bound to the Bear) just leave a comment below about what you love about shifter books even if your answer is EVERYTHING!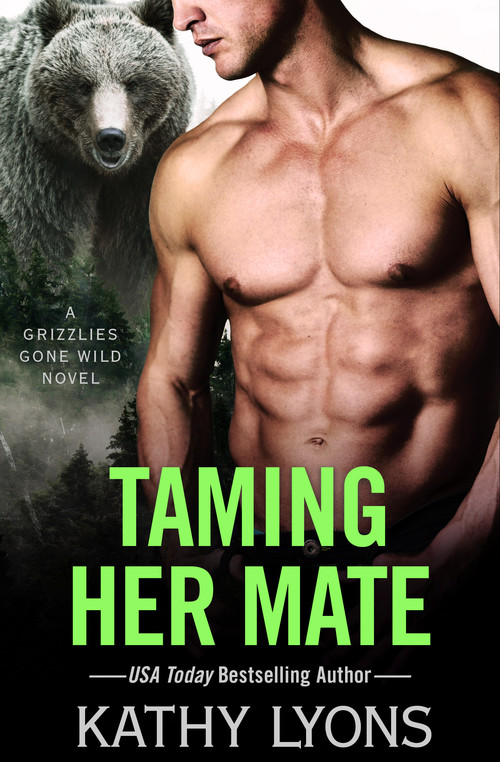 Some men aren't meant to be tamed. Don't miss the next book in USA Today bestselling author Kathy Lyons's Grizzlies Gone Wild series!
Can a Bear and a Wolf save a city? Not if passion overwhelms them in this action-packed, sexy race against time
Detective Ryan Kennedy doesn't have time for distractions. As the only bear shifter on the police force, he's responsible for investigating the cause of the mysterious flu-like illness that's ravaging the citizens of Detroit. But when the beautiful daughter of a rival clan's alpha asks for his help, Ryan realizes that this distraction holds the key to stopping the virus. If only he can focus on the case and not on how much he wants to kiss the enemy.
Francesca Wolf knows who's poisoning the city, and she has a plan to take him down, but it will only work if Ryan follows her lead. Frankie's strong, passionate spirit makes her slow to ask for help, but time is running out and the sexy-as-sin cop won't submit to her demands. Instead, he's giving her orders and firing up her passions just when she needs to stay calm. They'll have to work together—as equals—to save the city, to keep each other alive, and to contain a hunger that might just burn the whole city to the ground.
Romance Paranormal [Forever Yours, On Sale: March 19, 2019, e-Book, ISBN: 9781538762165 / eISBN: 9781538762165]

This bear serves, protects, and stands by his woman
Kathy Lyons is the wild, adventurous half of USA TODAY bestselling author Jade Lee. A lover of all things fantastical, Kathy spent much of her childhood in Narnia, Middle Earth, Amber, and Earthsea, just to name a few.  There is nothing she adores more than turning an ordinary day into something magical, which is what happens all the time in her books. Winner of several industry awards including the Prism—Best of the Best, Romantic Times Reviewer's Choice, and Fresh Fiction's Steamiest Read, Kathy has published over 50 romance novels, and she's just getting started.