Who are the top five couples in movies that started off as friends?
This legit is one of my FAVORITE questions 🙂 If you've done any light stalking on me, you'll likely know that my husband and I were friends for years before we woke up and realized we were soulmates 😉 So, naturally, one of my favorite tropes in books or movies is friends to lovers. Picking a top five was hard, but I seriously loved revisiting my favorite friendly couples! Below are my top five and the reasons why they make me swoon!
Hermione and Ron from HARRY POTTER
This is my number one friends-to-lovers couple because, well, I'm a total Harry Potter nerd! *Ravenclaw in the house!*There was something so beautiful about watching the progression of Ron and Hermione's relationship throughout the books and movies. Their friendship was rocky at first and then grew into this solid foundation on which they shaped their lives. Then, once that spark was lit between them, and they gave into the chemistry between them it was like…BOOM! Now they have that great friendship dynamic plus the amazing connection when taking it a step further. It really sets them up for a fantastic, equally loving relationship, and I'm so happy they ended up getting hitched in the epilogue of the last book! #Shipped #Always
Chris and Jamie from JUST FRIENDS
Again, if you've done some light stalking you might notice I love to drop 'Just Friends' quotes at a whim. I know the opinion on this movie is varied, but I absolutely love the ridiculousness of it! What is even crazier? The reality. There are so many friendships that are strong but blind, like Chris and Jamie's. Usually they are one sided—where one person totally sees the potential and feels the chemistry, and the other one is simply blind to that passion. It's a totally human reaction to not think of your friend that way, but if the love is there…it's brilliant when it hits! And I loved watching the sexy-Chris fumble all around the girl he'd loved his entire life just as much as I loved Jamie realizing what an idiot she'd been all those years. Glorious.
Iris and Miles from THE HOLIDAY
I simply love this movie. I love the whimsicalness of it. I love the way it highlights so many different types of relationships. And my favorite, as if you're surprised, is the dynamic between Iris and Miles. Neither character is looking for love—Iris just had her heart crushed and Miles is with someone who he's totally into. This fact gives the two room to be solely friends, and in this friendship they both find pieces of themselves that they were missing. After the stars align and they're allowed to give into their feelings, it's a super fun connection. The exhilaration is there and so is the trust, and after both of them had their hearts broken it's a huge step to take. What better way to do it than with someone who you can not only laugh with, but be with as easy as breathing?
Dylan and Jamie from FRIENDS WITH BENEFITS
I legit can't get enough of this movie. Like, I LOVE JT. I loved him back when he was in N'SYNC, and I love him now. Camp Winnipesaukee anyone??? Put him in a friends to lovers movie? Forget about it! The fact that Mila Kunis was in it was just a freaking bonus. The two have amazing chemistry, and their relationship was totally believable. I love the flip on the trope—two friends who agree to try being physical without the actual relationship portion. It's clear to everyone in the audience how wonderful they are together, but they're blind to it. It only makes it that much more fun to watch! It also made JT's grand gesture even more genuine at the end of the movie because he knew exactly what she wanted (great friends are good like that) and it was just a swoon moment.
Harry and Sally from WHEN HARRY MET SALLY
Last, but totally not least, Harry and Sally. I mean…come on! These two are the ideal friends to lovers characters! They meet by pure chance in college and then start what becomes an insanely awesome and beautifully written decade of friendship. They compliment each other in every regard, and they both understand each other better than any other person…it's totally swoon-worthy. I never get tired of this movie. I love watching their slow-burn romance build throughout their friendship, and absolutely adore the way one massive push makes them realize their happily ever after is literally right under their nose!
Whew! Hard to narrow it down to five but I'm so glad I got to revisit these! If you like stories like the ones listed above, check out LOVE IN THE FRIEND ZONE! It's the first in the Grad Night series, and my character Fynn and Braylen embody all the juicy goods from the trope: awesome banter, laugh-out-loud moments, electric chemistry, and the setting that allows them both to finally…see. It'll be on sale for $0.99 for ONE DAY ONLY on November 27th! Click it while you can 🙂
Thanks for having me! What are your favorite friends-to-lovers movies/books?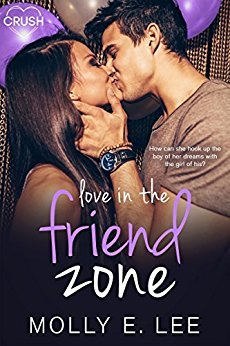 One epic party. Endless ways to fall in love.
The only thing worse than not being able to tell your best friend you're head over heels in love with him? Having to smile and nod when he enlists your help to ensnare the girl of his dreams.
Braylen didn't even want to go to Lennon Pryor's epic graduation-night party, but when Fynn begs her to be his "wingwoman," she can't deny him. Talking up her BFF—how he's magic behind a camera, with a killer sense of humor and eyelashes that frame the most gorgeous blue eyes in the history of forever—is easy. Supporting his efforts to woo someone so completely wrong for him? Not so much.
Fynn knows that grad night is his last shot before leaving for college to find true love. And thanks to Bray, he gets his chance with the beautiful Katy Evans. But over the course of the coolest party of their high school careers, he starts to see that perhaps what he really wants has been in front of him all along. Bray's been his best friend since kindergarten, though, and he'd rather have her in his life as a friend than not at all.
Disclaimer: This Entangled Teen Crush book contains one epic party, complete with every high-schoolers-gone-bad shenanigan, and two best friends whose sexual chemistry is off the charts…if only they'd succumb to it.
Young Adult | Romance Contemporary [Entangled, On Sale: August 14, 2017, e-Book, ISBN: 9781640631496 / eISBN: 9781640631496]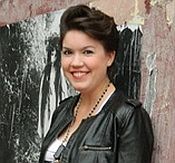 Molly E. Lee is an author best known for her romance novels, the Grad Night series and the Love on the Edge series. Molly writes Adult and Young Adult contemporary featuring strong female heroines who are unafraid to challenge their male counterparts, yet still vulnerable enough to have love sneak up on them. In addition to being a military spouse and mother of two + one stubborn English Bulldog, Molly loves watching storms from her back porch at her Midwest home, and digging for treasures in antique stores.