The fourth book in my Game Changers series, COMMON GOAL, focuses on NHL goaltender Eric Bennett as he plays his final season at the age of forty-one. I turned forty myself earlier this month, so writing Eric felt personal. Even though I basically have nothing in common with Eric besides the fact that we are both extremely hot.
Speaking of very hot adults, I have compiled a list of five dreamboat active NHL players who are thirty-five or over. These are the mature hunks that you need to watch now before they retire (presented in no particular order).
Henrik Lundqvist – New York Rangers
I like my men like I like my bookshelves: tall, dark and Swedish, and King Henry ticks every box. That trim beard, those bespoke suits, those silver blue eyes…damn. He's two years younger than me, but I would still call him Daddy and not even feel weird about it. Does he do a little underwear modeling on the side? Of course he does. Did he openly weep when his best friend was traded last season? Yes, because he's a confident king who isn't afraid of his feelings. Will he ever win a Stanley Cup? Probably not, but they should engrave his name on it anyway for being hot.
Justin Williams – Carolina Hurricanes
Last season Justin Williams quit hockey and then came back because he's too hot to stay away. His lovely eyes, warm smile, and salt-and-pepper beard give him a rumpled, sexy political science professor vibe that I am very into. He's not currently the Hurricanes' captain, but he is the captain and we all know it.
Nate Thompson – Philadelphia Flyers
It hurts me to write 'Philadelphia Flyers' after Thompson's name because, even though his time with my beloved Montreal Canadiens was brief, he definitely left his mark. Nate is not only a rugged bear of a man from Alaska, he is also an inspiration. He's been very open about his battle with drug and alcohol addiction, and about the support his wife has given him during this battle. He also danced into the dressing room after every Habs win. I don't know if he still does that in Philly, but I hope so. And I hope he dances his way back to Montreal.
Ilya Kovalchuk – Washington Capitals
Speaking of brief stints with the Montreal Canadiens, Ilya Kovalchuk came to Montreal in January and stayed for only a few weeks before leaving for Washington, but in those few weeks, he made everyone in Montreal fall in love with him.
Look, I love Ilya Kovalchuk. I named a whole character after him. He's someone who I keep thinking must be, like fifty years old by now, but he is, in fact, several years younger than me. And a billion times fitter than me. He's probably a billion times fitter than most of the NHL, honestly. He's always posting hardcore workout videos from a beach in Miami on his Instagram. He's 6'3" and nothing but muscle and the perfect amount of chest hair. Get him back, Montreal! 
Zdeno Chara – Boston Bruins
Chara is officially the oldest active NHL player. He is also the tallest NHL player ever. EVER. He is 6'9" which is bananas, because he is even taller in skates. You'd think being an actual giant who skates would be enough, but he is also relentlessly interesting as a human being. He speaks, wait for it, seven languages. He's also taken business courses at Harvard, and he has a license to sell real estate in Massachusetts. Also, he once posted a selfie on Instagram that was supposed to be a benign, sponsored post for some energy bar but everyone who saw it was way more interested in the bondage hooks you could see drilled into his very tall bedposts in the background. Whoops.
Or maybe he knew exactly what he was doing with that post. I mean, the caption was "Bedtime snack always helps" so. . .
Game Changers #4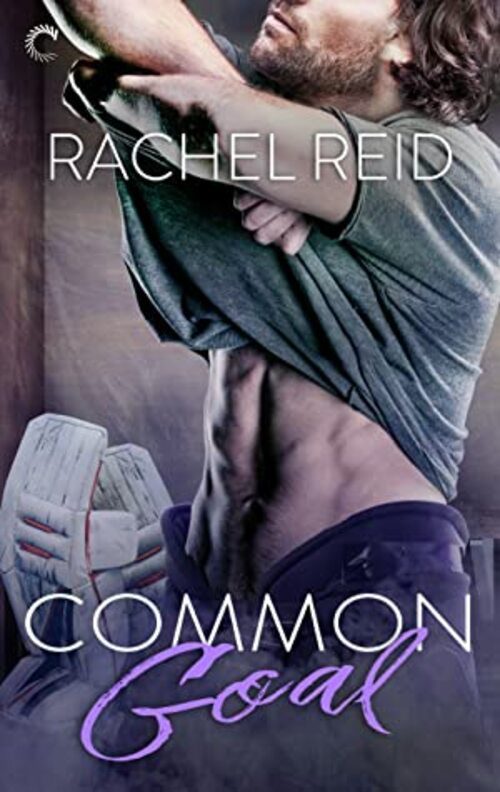 "With this irresistible mix of sports, sex, and romance, Reid has scored another hat trick." –Publishers Weekly, starred review
New York Admirals goalie Eric never thought his friends-with-benefits arrangement with much-younger Kyle would leave them both wanting more. . .
Veteran goaltender Eric Bennett has faced down some of the toughest shooters on the ice, but nothing prepared him for his latest challenge–life after hockey. It's time to make some big changes, starting with finally dating men for the first time.
Graduate student Kyle Swift moved to New York nursing a broken heart. He'd sworn to find someone his own age to crush on (for once). Until he meets a gorgeous, distinguished silver fox hockey player. Despite their intense physical attraction, Kyle has no intention of getting emotionally involved. He'll teach Eric a few tricks, have some mutually consensual fun, then walk away.
Eric is more than happy to learn anything Kyle brings to the table. And Kyle never expected their friends-with-benefits arrangement to leave him wanting more. Happily-ever-after might be staring them in the face, but it won't happen if they're too stubborn to come clean about their feelings.
Everything they both want is within reach. . . They just have to be brave enough to grab it.
Game Changers Series:
Book 1: Game Changer
Book 2: Heated Rivalry
Book 3: Tough Guy
Book 4: Common Goal
Romance Contemporary | Romance LGBTQ | Romance Sports [Carina Press, On Sale: September 21, 2020, e-Book, ISBN: 9781488076855 / eISBN: 9781488076855]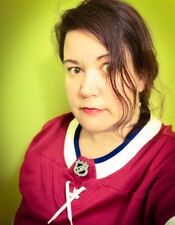 Rachel Reid is the pen name of Rachelle Goguen. She chose it because it is much easier to say, spell and remember than Rachelle Goguen!
Rachel writes cute, romantic smut, mostly about hockey players.
Rachelle co-hosts a comic book podcast called Living Between Wednesdays.
Rachel/Rachelle lives in Nova Scotia, Canada. She has always lived there, and it's looking like she probably always will. She has two boring degrees and two interesting kids.