Grabbing his coffee mug—because cutting coffee out of his diet was not going to happen—he walked out onto the deck and sat down. This was something that really did relax him, and he had to admit, it was nice to be able to stay out here and linger rather than rushing inside to get ready for work.
Except…every time he came out here, he looked for Sophie.
He was still kicking himself for the way they'd ended things when she was here. It wasn't his intention to make her feel bad or for her to leave the way she had. But in that moment, he was feeling a little overwhelmed and he knew he hadn't handled things well. And in the process, he'd hurt her feelings. While he wanted to apologize to her, he wasn't sure how.
Sure, he could've gone to the water every time he saw her, but every time he was about to step off the deck, he chickened out. Partly because he wasn't really sure what to say, and partly because he was afraid he had misread the situation and maybe she was only interested in him as…you know, a patient.
And man, would that suck.
Then there was the possibility of calling her, only he didn't have her number. They hadn't exchanged them when she was here and—
Wait a minute, he thought. She had interviewed at Montgomerys—or rather, the agency she worked for had sent her to Montgomerys—and no doubt she'd filled out an application, so really, he could call the office and ask Patricia for that information. It would simply be a matter of him calling to thank her for her help—at least, that's what he'd tell Patricia.
With a nod of approval at this idea, Christian smiled and felt a little bit better about the situation as a whole. Calling her would mean he wouldn't have to see the expression on her face if she was really only interested in him because of the whole anxiety attack thing—he could apologize and not have this hanging over his head, consuming his thoughts any longer.
With a big sound of relief, he relaxed in his seat and took a sip of coffee. The thought of another day sitting around the house was beyond unappealing, but what else was there to do? His doctor had recommended finding a low-stress hobby like reading, but that wasn't something he envisioned himself doing for hours at a time. No, he needed to get out of the house so he wouldn't be tempted to check his emails or watch the stock market or anything related to the financial world.
Oddly enough, that got him thinking about Sophie again. When they'd been talking over lunch, she had shared with him that she'd decided to take up surfing as a distraction of sorts. It wasn't as if she'd been dreaming of being a surfer her whole life or anything, but once she arrived in town she figured it was a great way to meet people and learn something new.
Christian really didn't want to surf, but there were other things he could try—other sports or activities. Standing up, he leaned on the railing and looked out at the morning crowd. Most of them were surfers, but there was also a group who did yoga on the beach, and there was a constant stream of joggers.
Now that he thought about it, he'd been on the track team in high school and college, maybe it was something he could ease back into.
Out of the corner of his eye he spotted a sassy red ponytail and the curvy woman it belonged to. He needed to do something about this obvious attraction he had for her. That meant he had to talk to her and apologize for his behavior and then feel her out about seeing her again.
As usual, she didn't look in his direction, so for the next hour, Christian was content to watch her try to master the sport of surfing.
Which—oddly enough—was both entertaining and arousing.
(C) Samantha Chase, 2019, Sourcebooks Casablanca
Love is a sanctuary
Christian Montgomery is burnt out—the family business might be his entire world, but his father's judgment means Christian never stops working. His only respite is gazing at the beach and the carefree surfers riding the waves…especially the curvy redhead who's caught his attention.
Sophia Bennington has just fled from her small Kansas town to California, where she's trying her best to embrace her new beginning. Soon Christian and Sophia find one another, and it feels like sanctuary. But when their difficult pasts catch up to them, will they run away from each other?
Romance Contemporary [Sourcebooks Casablanca, On Sale: January 29, 2019, Mass Market Paperback / e-Book, ISBN: 9781492655930 / eISBN: 9781492655947]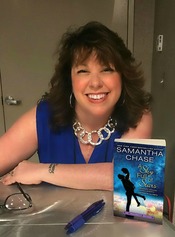 New York Times and USA Today Bestseller/contemporary romance writer Samantha Chase released her debut novel, Jordan's Return, in November 2011. Although she waited until she was in her 40's to publish for the first time, writing has been a lifelong passion. Her motivation to take that step was her students: teaching creative writing to elementary age students all the way up through high school and encouraging those students to follow their writing dreams gave Samantha the confidence to take that step as well.
When she's not working on a new story, she spends her time reading contemporary romances, playing way too many games of Scrabble or Solitaire on Facebook and spending time with her husband of 25 years and their two sons in North Carolina.