When I first set out to write this series – Band on the Run – this was not quite the way I had it planned.  It was going to be a trilogy, but unrelated. For those of you who know me, I'm kind of known more for my family sagas, but the chance to write something a little different fed my creativity in a way that nothing had in a while.  So how did we end up here? After much discussion, it was decided that the music trilogy would be an off-shoot of my Shaughnessy Brothers series. Why? Because Riley Shaughnessy is a rock star whose band is on hiatus. 😊
CUE THE INSPIRATION!!
And so the series now had it's players and its foundation and I have to say, I have loved every minute of it. You see, music plays a large part in my life. I'm married to a drummer. My older son was in a band.  Overall, we are a family who LOVES music, so the thought of writing books set in the music world fascinated me.
BUT…I was going to take a different approach to writing about a rock band.
I wasn't writing about life on the road or the music.
I was writing about the men.
As a writer, we create our characters who we give our voice to. With this series, I took the approach that I was constantly doing a documentary on the guys and what their real lives were like.  Like a behind-the-scenes sort of thing. Each book in the series – ONE MORE KISS, ONE MORE PROMISE, and ONE MORE MOMENT – focuses on each guy in the band at a crossroad in his life. These are damaged heroes who have to deal with some pretty major things when they're off the stage and not in the limelight in a positive way. So if you're looking for the rock band story about sex, drugs, and rock n'roll, that's not going to be found in this series.  What you 
will find is my classic approach to contemporary romance with heroes who just happen to be musicians.
As for the playground part, I thought it would be cool to peek behind the curtain and imagine what life is like for these guys when they're home and in their natural habitat.  What did they do in their spare time? What was their everyday life like? But more importantly, I wanted them to find love with women who understood them, but who weren't part of the music industry.  
And I think we pulled that of beautifully.
ONE MORE MOMENT is the latest – and final – book in the series and I am SO excited for it to be in the hands of the readers!! Julian Grayson is probably the deepest, broodiest hero I have EVER written and I love him more for it.  There were so many layers to him and he was both challenging and a joy to create. And because of his issues and personality, I had to balance him with someone completely sunny and shiny and hopeful – and Charlotte was the perfect woman for him.
So be sure to check out ONE MORE MOMENT and all the guys of the Band on the Run series and sneak behind the curtain with me for your own backstage and behind-the-scenes look at the life of the men who just happen to be rock stars.
Julian Grayson is taking a break
     …from his cheating fiancée
     …from his band
     …from his life in the spotlight
Charlotte Clark is devoted to her work
     …to save the world
     …to help the homeless
     …to get a broken man back on his feet
When Charlotte Clark offers to pay for Julian Grayson's coffee, the world-famous drummer assumes she wants something from him. But Charlotte has no idea who he is, and Julian can't resist keeping up the charade—being incognito is a novelty and a relief. He'll have to tell her…eventually. But as Charlotte cheerfully undertakes to transform his life, Julian realizes there's something about her that gives him what he hasn't felt in years: hope.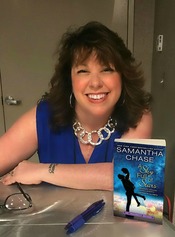 When she's not working on a new story, she spends her time reading contemporary romances, playing way too many games of Scrabble or Solitaire on Facebook and spending time with her husband of 25 years and their two sons in North Carolina.