Let's get real for a second: paranormal romance readers are looking for something unique. We all love classic paranormal tropes, but in recent years, the true treasures among the genre have taken those classic elements and turned them on their head. Likewise, if you're a western romance reader, you're looking for the sexy tried and true cowboys you love but with an extra special, fresh twist.
So what if I told you that you could have the best of both worlds? –Cue collective gasps!
Paranormal romance with a western twist is exactly what you'll find in Cowboy in Wolf's Clothing, my newest release and the second installment in dark and dangerous Seven Range Shifter series, where the heroes are cowboys by day, wolf shifters by night.
Now I'm not really one to sing my own praises, but since I'm here to convince you that cowboy + wolves is the mashup you've been waiting for, here are three reasons why I love writing the Seven Range Shifters.
All the sexy alpha male angst, none of the alpha-hole bull…
We've all read it—the alpha-male wolf shifter who is just a little too…alpha. And while I love a sexy alpha male shifter as much as the next paranormal reader (and my heroes definitely don't shy away from their dark alpha-ness), the cowboy element in the Seven Range Shifter series gives me the perfect excuse to make these sexy heroes just a little softer on the inside. These cowboys with a dark past are on quests for redemption. Think badass shifter angst meets cowboy with a heart of gold trying to be a better man.
"I may not promise to call in the morning like a gentleman, but you wouldn't forget a night with me"—Cowboy in Wolf's Clothing
Rough and tough cowboys
If you like "cinematic cowboy cool" and like your cowboys to be a little bit more rough around the edges than the small-town sweet westerns, look no further. The wolf shifter element makes the Seven Range Shifter cowboys majorly badass—and with good reason. These cowboys never shy away from a fight, which means a hefty dose of western adventure.
"See synonyms for reference: worst fear, here-comes-trouble, and the Devil Wears a Cowboy Hat"—Cowboy in Wolf's Clothing
A hint of believability
Ever wonder how a wolf shifter would manage to live a life among humans? It's easier to believe if they're in their natural habit and isolated by hundreds of miles of Montana mountains. Couple that with the cover of forests and the intimate nature of living alone on a large ranch, plus using ranching as a means to make their living, and it's the perfect cover for pack life.
"I don't think you realize what kind of fire you're playing with, sweetheart"—Cowboy in Wolf's Clothing
If you haven't picked up Cowboy in Wolf's Clothing yet, I hope the reasons I love writing this series convinces you this is the genre mashup you've been waiting for! Happy cowboy-wolf reading!
Born a cowboy and bred a warrior…
High Commander Colt Cavanaugh has spent his life defending his pack and its sprawling ranchlands. But the hardened Grey Wolf soldier has a dark secret that could destroy his life forever.
Belle Beaumont is a wanted woman, on the run from the wolf pack that kidnapped her. When fate brings her face-to-face with the Grey Wolf High Commander himself, rivalry becomes passion, and suddenly more than just her freedom is at stake.
Colt will fight to the death for the healing Belle brings to his battle-worn heart―and for this cowboy wolf, all's fair in love and war…
Romance Paranormal | Romance Western [Sourcebooks Casablanca, On Sale: June 25, 2019, Paperback, ISBN: 9781492670797 / ]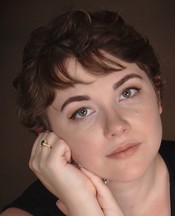 ROMANCE AUTHOR, WORLD TRAVELER, ENGLISH PROFESSOR, AND FORMER PROFESSIONAL bellydancer, Kait Ballenger hated reading when she was a child, because she was horrible at it. Then by chance she picked up the Harry Potter series at the age of eight, fell in love with reading, and never looked back. When she realized she could tell her own stories, the deal was sealed.
A first-generation college student, she earned her B.A in English from Stetson University, followed by an M.F.A in Writing from Spalding University. After stints working as a real vampire (aka a phlebotomist), a bingo caller, and a professional bellydancer, Kait finally decided that her eight-year-old self knew best: Kait's meant to be a writer…though the jury is still out on being the next J.K Rowling.
When Kait's not preoccupied with writing captivating paranormal romance, page-turning suspense or love scenes that make even seasoned romance readers blush, she can usually be found spending time with her family or with her nose buried in a good book. She loves to travel, especially abroad, and experience new places.
She lives in Florida with her husband and two young sons.
And yes, she can still bellydance with the best of them…